Episodes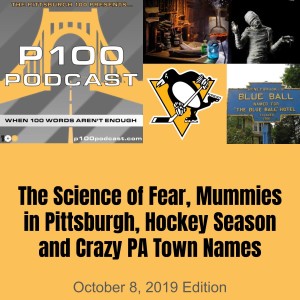 Tuesday Oct 08, 2019
Tuesday Oct 08, 2019
In this episode of the P100 Podcast, our hosts Paul, Dan and Logan welcome Nicole Chynoweth from the Carnegie Science Center to discuss the center's new exhibit on mummies. From there we move on to the science of fear, and then on to hockey with their guest, Jeremy Church. This episode wraps up with a review of some unique Pennsylvania town names. We bet you have your favorites.
Full transcript here:
Logan:
You are listening to the P100 podcast, the biweekly companion piece to the Pittsburgh 100, bringing you Pittsburgh news culture and more because sometimes 100 words just aren't enough for a great story.
Dan:
Hi everyone. Welcome back to the P100 Podcast, we're happy to have you back for another episode. I am Dan Stefano, I'm here with Logan Armstrong. Logan.
Logan:
How's it going?
Dan:
A pleasure to have you with us and Paul Furiga will be joining us in a little bit. Today's episode we're going to be talking about mummies. Not your mothers, not like that Logan. I see you, that's what you're thinking. No, just having a pleasant thought, thinking about dear old mom. No, Okay.
Dan:
Now, we're actually going to be talking about the mummies that you might think of whenever you think of ancient Egypt and other parts of the world here. There's a new exhibit at the Carnegie Science Center - Mummies of the World, and we're really excited to talk with someone from the Science Center about that.
Dan:
Afterward, we're going to be discussing the science of fear. Keeping with us, somewhat of a Halloween type of theme here. Then, we're going to be talking about, what everybody knows, it's the beginning of hockey season. Logan, you excited about that?
Logan:
No. 
Dan:
No. You're not excited about hockey. Okay. Well, I am and some other people in the office, and we're going to be talking with one of them about the growth of youth hockey in the region, which is really something that's taken off in the past few couple of decades here in Pittsburgh. And we're going to finish up with Logan and I being just as serious we are now. We're going to talk about strange Pennsylvania town names. So if you make it to the end, you're going to be in for treat on that one.
Logan:
Oh yeah. Stay tuned.
Dan:
Okay, so let's get going. All right guys, for this segment we're going to talk about mummies. In particular, mummies of the world, the exhibition. It's a new exhibit at the Carnegie Science Center and from the Science Center, we have Nicole Chynoweth. Nicole, thanks for being here.
Nicole:
Thank you for having me.
Dan:
Absolutely. Thanks for being with us here. And can we talk a little bit about your own role within the Science Center here. Can you tell us your position and a little bit what you do?
Nicole:
Sure. So, I'm the manager of marketing, public relations, and social media with a focus on exhibits and the Rangos Giants Cinema.
Dan:
Great. What does that entail then? I mean, that I imagine you you are working with a lot of different positions there. Right?
Nicole:
Yeah, it's a really fun job. I get my hands in everything from new movies that we have coming out at the Rangos, educational films to the exciting new exhibits that we're bringing to the science center, from space topics, planetarium related things, and mummies-
Dan:
Really cool, it seems like a fun place to work. Right?
Paul:
Nicole, you've had your hands in the mummies?
Nicole:
No.
Paul:
Okay. The promotion of the mummies.
Dan:
The promotion of the mummies. 
Paul:
I'm sure we'll talk about some of the technical aspects, but that would seem a little gross, but...
Nicole:
I don't think so. I find the exhibition more fascinating than I do creepy. And I'm not a fan of scary movies or I did not watch the Brendan Fraser mummy movie.
Paul:
You didn't?
Nicole:
No interest in that.
Paul:
I did watch those.
Dan:
You're missing out on a classic from the 1990s.
Paul:
Yeah. Well, classic is a little strong-
Dan:
I think it should have won an Oscar, but that's just me.
Paul:
Okay, Dan. We'll talk about that another time. So Nicole, when I think of the science center, I think about some of the other things you mentioned. Space, technology, mummies?
Nicole:
Yes, mummies are, especially this show, the mummies featured in Mummies of the World, the exhibition is, have so much to offer in terms of scientific, anatomical, biological information that we can still learn from today. So what I find really exciting about the mummies of the world is that it focuses on both natural mummification and intentional mummification. So, you might be more familiar with intentional mummification. That's the type that was [crosstalk 00:04:15] practicing in ancient Egypt. Correct.
Nicole:
And we do have some examples of Egyptian mummification in the show, but this also takes a look at the natural mummification process that can happen when conditions are at such a level moisture wise, temperature-wise that is able to naturally mummify a body, be it animal or human.
Dan:
Right. Well, it sounds like some pretty amazing things to see...
Paul:
Yeah, it's fascinating.
Dan:
What are some examples maybe of the intended mummification that we'd see there? I mean, is there anything from, I guess everybody knows about Egyptian mummies but then, they're also South American. What else might you see?
Nicole:
So an interesting example of the intentional mummification process that aside from like the Egyptian mummies that are featured in the show, there is Mumab, also known as the Maryland Mummy. In the nineties, two scientists at the University of Maryland decided that they wanted to try their hand at an Egyptian mummification process. A man had donated his body to science, and so they started the process of mummifying him. So, you can see Mumab in the show.
Nicole:
That's just an interesting way of seeing how we are still learning thousands and thousands of years later about how this process works and the tools that they had to use to complete the process and what the body has to go through for mummification to occur.
Dan:
That's really cool.
Paul:
Did it work?
Nicole:
I've been told that it's still in process, it's not completely... He's not completely mummified yet.
Paul:
Take some time?
Nicole:
Yes.
Paul:
Wow. Something I never knew.
Dan:
That's pretty awesome. Can you tell us what else is in the exhibit then? I mean, are there any, you say interactive portions to it. What should people and families expect whenever they're inside here. It's not just, as you'd be at a museum taking a look. I mean one of the great things about the science center is it kind of hands-on.
Paul:
Hands-on. Yeah.
Nicole:
Yes. So in addition, to the 40 animal and human mummies and 85 rare related artifacts, visitors will also be able to look through several interactives related to different topics within mummification. I think a favorite among children will definitely be the, what does mummy feel like a station where you can touch different types of mummified materials, so there's like frog skin, fur. Mummified fur, different things like that they'll be able to touch these like textile panels that are examples of what those things feel like.
Nicole:
Another great interactive is there's a large map that shows where different types of mummies have been found all over the world, which I think is really important to look at from the perspective of which, like you said, we are so used to just thinking about Egyptian mummies.
Paul:
Yes.
Nicole:
And really there are mummies all over the world, [crosstalk 00:07:15].
Paul:
So not to be surprised?
Nicole:
Yeah.
Paul:
You never know where you might find a mummy!
Nicole:
Right, right.
Dan:
Okay. Well, people will hear, we can see Mummies of the World through April 19th that's correct, right?
Nicole:
Correct. Open through April 19th. It takes about 60 to 90 minutes to get through the exhibition, for parents that are maybe wondering if the exhibition is appropriate for their children. We do have a family guide available at carnegiesciencecenter.org/mummies, that might answer some of the questions parents have before they take their kids to the exhibition.
Nicole:
But I really believe that it is appropriate for all ages and I think people will take something away from the show, be it a new interest in archeology or anthropology or just being able to connect with the backstories of the mommies that are featured in the show. You get to know them. They're more than just a mummy in front of you. You learn their story, how they lived, the way they lived, where they were from. So, super excited to have it at the science center and to be able to offer this experience to Pittsburghers.
Dan:
That's great. Anything else happen at the science center lately?
Nicole:
Yes. So, it's Halloween season.
Dan:
Yes.
Nicole:
What better time than to experience a scary movie on Pittsburgh's largest screen?
Paul:
Very good.
Nicole:
The Rangos Strengths Cinema teamed up with Scare House, this year actually for Rangos x Scare House. We co-curated some Halloween movies together to offer Pittsburgh a really exciting lineup for the Halloween seasons. So we have coming up the Universal Studios Classic Monsters. We're showing the Creature from the Black Lagoon, Frankenstein and Dracula, on October 11th through the 13th.
Nicole:
We also have Dawn of the Dead 3D showing October 25th and the 26th. And that's a really exciting screening because they don't often show the 3D version. So if you've seen Dawn the Dead before, I can guarantee you have not seen it like this.
Dan:
This is the original one?
Nicole:
Yes. This is the original Dawn of the dead. Yes.
Paul:
In 3D.
Nicole:
In 3D.
Paul:
Have you seen it, Nicole?
Nicole:
I have not seen it. I'm not a huge fan of the scary movies, but I've been told that if there's one I should experience at the Rangos this year. It's probably this one.
Dan:
All right? Just how big again is the Rangos?
Nicole:
So we are a certified giant screen. The screen itself measures 72 by 38 feet.
Paul:
Wow.
Nicole:
We also have 45 surround sound speakers. Your average theater has 14.
Paul:
Dan, if you and I can get that past our spouses and into our basements. I think that'll be good.
Dan:
I might have to tear down a wall or two in my basement, but I think I can handle it.
Paul:
You know, it's all about the purpose, Dan.
Dan:
You know what, we're trying to fix more damage to begin with. So I think I could get this Rangos a screen down here. That'd be perfect.
Paul:
It'd be very nice.
Dan:
Nicole, how can people find out more about the Carnegie Science Center, both online and in social media?
Nicole:
Sure. Visit us at carnegiesciencecenter.org or find us on Facebook. Carnegie Science Center or Twitter and Instagram @Carnegie S-C-I-C-T-R.
Dan:
Okay. Thanks so much for coming on Nicole. We appreciate it.
Nicole:
Thank you.
Paul:
Yes.
Dan:
All right guys. We were just talking about mummies and now we're going to... mummies, if you'll look back at it, they're famous movie monsters, some of the old ones from the 30s, some of the more recent mummy movies and whatnot.
Paul:
Brendan Fraser.
Dan:
Exactly, yeah. I love those horror movies and I love being scared. I love this time of year whenever we get a chance to go out to a haunted house. Me and my wife try to do one at least once a year. She's not wild about them, but I have a great time. Even right now in a couple of days. I believe the scare house is going to be reopening the scare houses. One of the more popular attractions around the area of this third winter.
Paul:
Award-winning.
Dan:
Award-winning, correct. Yeah. They had to move from Etna and they're in the Strip District. I think they maybe even changed the name to reflect that, but I think, it's interesting that people love to go to these things and they're so well attended.
Dan:
You see the lines around the block just to be scared and so I've had a chance to go look at the psychology of fear here, and there's an interesting phenomenon that researchers have found called VANE. It's V-A-N-E, and it stands for Voluntary Arousing Negative Experiences. Logan or Paul, you guys ever felt anything like that? Do you have any voluntary experiences?
Paul:
Yes. Dan, some people call that work?
Dan:
No. Yes.
Paul:
I've absolutely. So, I mean, I'm the old guy in the room. You think back to when I was a teenager, the voluntary arousing negative experience was to take the date you really like to a scary movie.
Dan:
Okay.
Paul:
I think we're going to get into this Dan, some of the why this is in... Things that people will voluntarily do you, you might not have expected a certain level of affection from your date, but if you took her to a scary movie, there would be the involuntary reaction when something happened on the screen of-
Dan:
Them getting closer? There you go. That's clever.
Paul:
Yeah. Well, and it's all this time at least all the scary movies.
Dan:
I think, when you look at some of the research here, what they point at, one of the most important parts of that is that it `is voluntary and that people were making a conscious decision to go out and be scared. And a lot of that is about overcoming stress. And you might go in with another person, you're working together to try to get through this shared experience here, fighting the monsters, try not to punch the actors who are just trying to have a good time and scare you.
Dan:
But they get a chance to get outside of themselves, and as we said, face a fear and there's really a great quote here from a woman named Justine Musk. Her quote says, "Fear is a powerful beast, but we can learn to ride it". I think that's just a very good succinct way to put it. But our good friend Logan here, you were actually a psychology major for a couple of years at Pitt and you know a lot about fear.
Logan:
Yes. So, as you said, I was a psychology major for a few years. I really enjoy just kind of how humans work. But so basically what it is that you have a part of your brain and it's a little almond-shaped lobe called a medulla. But, so basically what happens is that you're, when you see emotions on people's faces or when you see something that would cause you to emote in a certain way.
Logan:
So, say you see you're out in the wild and you see a lion and you're like, well that's not good. So that message sends to your medulla, which then sends to your limbic system. And if you guys are aware of the limbic system, it's your fight or flight response.
Dan:
Yes, okay.
Logan:
When you experience these negative arousals, that kicks into high gear and that pumps adrenaline through your entire body, your pupils dilate, your bronchitis dilates, just you're in this hyper-aware zone, and that's where adrenaline junkies get it from.
Logan:
It's a similar thing to where you're experiencing fear where you might be scared, but your adrenaline is pumping so much and it's releasing so many endorphins and dopamine that you end up enjoying it.
Dan:
Well. Okay, now we know whenever we either go to a haunted house or if we go see the mummies exhibit at the Carnegie Science Center, none of us are going to be scared because we know all the science, and we just know what's going on in our brain.
Paul:
Well, I mean this is also why people like roller coasters shout out to the steel curtain at Kennywood. Because they know it's safe. Right?
Dan:
Right.
Paul:
The experience is scary, but it's safe. When you go and see a movie. Yes. You sure hope so. You see the movie, you know it's going to be an hour and 20 minutes or two hours or whatever and when it's over, you may have been scared during the movie, but you're okay. The same with the rollercoaster, three minutes and then you're back in line, right it again. Right? Because you've enjoyed that safe experience of being scared.
Logan:
And it's the same concept where it's going back to my earlier example. If you see a lion in the wild or you're going to be scared. But if you go to the zoo, you're going to think it's cute or whether somebody else tickles you, you get a reaction, but you can't tickle yourself because your brain knows it's not a threat.
Dan:
Well, we do see a lot of alligators on the streets of Pittsburgh these days, so I don't know. You know what I mean. Maybe we'll see a lion the next, but I don't know that's all there is to know about fear or at least a good introduction for it. So, yeah. Logan, thanks for the knowledge there.
Logan:
Sure thing.
Dan:
Yeah. Maybe you should have stayed as a psychology major.
Paul:
He won't be here helping us today.
Dan:
That's a fair point.
Logan:
Now he's like "you really should've stayed a psych major"
Logan:
Centuries before cell phones and social media, human connections are made around fires. As we shared, the stories have shaped our world. Today, stories are still the most powerful way to move hearts and minds and inspire action. At Word Wright, Pittsburgh's largest independent public relations agency. We understand that before you had a brand before you sold any product or service, you had a story.
Logan:
Word Wright helps clients to uncover their own Capital S story. The reason someone would want to buy work, invest or partner with you through our patented story-crafting process, visit wordpr.com to uncover your capitalist story.
Paul:
All right guys. It's a fun time of year because the penguins are back in action. We're all hoping that they can get back to the Stanley cup this year. Who better to have on our vice president Jeremy Church here at one of our vice presidents here at WordWrite. Jeremy, you're involved with hockey and can you tell us a little bit about that?
Jeremy:
Sure. I've been fortunate to be involved with the game for nearly 40 years now as a player and a coach. Grew up starting about eight I guess in Michigan. Then we moved here in 10 continued to play, went away to prep school and played all through prep school Junior A, was fortunate enough again to play in college and then the last 17 years at various levels. I've been able to coach.
Paul:
That's awesome. Yeah, Who do you coach with?
Jeremy:
Right now, I'm coaching my younger son. With 11 Hornets, youth hockey organization. Prior to that, I helped with the high school in Mount Lebanon for five years. Coached at Shady Side Academy for a year and again using the word fortunate was able to go back to the Prep school. I played at Culver Military Academy and coached there for six years and it's a pretty storied program.
Paul:
That's fair and awesome. Well, Pittsburgh's got a long history in hockey going back to the turn of the century here, pretty much and but from a lot of people, the history and hockey didn't start until Mario Lemieux got here in the early eighties and Jeremy have a fun story about Mario Lemieux actually.
Jeremy:
I do. There've been two big booms locally when it comes to the growth of the sport. And certainly the first one had to have been when Merrill was drafted back in 1984 so we had just moved here from outside of Detroit and moved to the South Hills and we went to South Hills village one day and the mall was still there. At the time it was Kaufman's Department Store, which is no longer there.
Paul:
Oh yeah, the mall's there now just no Kaufmann's.
Jeremy:
So we're walking through and there's a little table set up and there are two or three people sitting there, one of them towers over all the others. And as we get closer and closer, there's no line at all. Mind you, it's Mario Lemieux sitting there signing autographs before he'd ever played a game.
Jeremy:
So, we walked up to the table, got his autograph. He still really couldn't speak English that well. But if you could imagine today the kind of stir it would create if Mario were around talking at to anyone in any environment. It was the exact opposite back then. I still have the autograph today.
Paul:
What did you get autographed?
Jeremy:
They had little teeny pamphlets of him in his Junior A Laval and from the Quebec Major Junior League Jersey, and that's all they had to sign. I think it was him. And it might've been Paul Steigerwald because at the time he was head of showing Mario around town and Mario, for those who don't remember when he was 18 actually lived with a host family in Mount Lebanon for the first year that he was here when he was 18.
Paul:
Yeah. Well, like I said it, whenever he first got here, he lived with Lemieux.
Jeremy:
Yeah, he returned the favor.
Paul:
Well, since that day, whenever there was no line at Kauffman's, today there was no more Kauffman's and you would have a gigantic line. But so what can you say about just seeing the growth of hockey? Especially from a youth hockey angle here, you've been front and center with it your entire life?
Jeremy:
It's pretty remarkable. Doing a little research earlier and in 1975 there were basically two rinks that you could play out of indoor rinks for Youth Hockey: Rostraver Gardens, which is still around and Mount Lebanon Recreation Center, which is still around.
Jeremy:
By 1990, when I was in high school, there were 10 and now that figure is roughly doubled to around 20 in the region. There are 62 high school teams and there are 28 organizations in the Pittsburgh Amateur Hockey League. And within the Pittsburgh Amateur Hockey League, there are now 5,600 players. And that's for those who are around playing in the eighties or growing up in the eighties and early nineties here, that's almost hard to believe there's, you know that there are 28 organizations, but if you go down through the ranks of 18 and under 16 and under 14, 12, ten eight and under age groups, there's dozens and dozens of teams at various levels all throughout that.
Jeremy:
So, for last year at the ten-year level, ten-year-old level, there were 80 plus 10 new teams in PAHL, Pittsburgh Amateur Hockey League League. So pretty remarkable.
Paul:
Right, Yeah. The majority of those kids, they're probably not going to be heading to the NHL, but a lot of kids want to at least, pretend that they're one of their heroes and get involved in the game. And I think one of the problems, maybe not a problem with hockey, but one of the issues surrounding it is there is a perception that there is a bit of a barrier to entry. You've got to have skates, you've got to have pads, you've got to have a good helmet, you've got to have a good stick. There's a lot of, there's a lot to that kit there. Jeremy, there are easier ways for kids to get involved in the game today though, right?
Jeremy:
Yes. Part of the Testament to the Penguins organization and certainly as Sidney Crosby has been, his emphasis and involvement with youth programs and youth hockey initiatives. And not just in Pittsburgh, but I know as well back when he returns to Canada in the summer and throughout the year, he likes to give back to the community.
Jeremy:
But a big initiative that started, it's now celebrating it's 10 year anniversary or 11 year anniversary is the little Penguins learn to play hockey, where Sid partnered with Dick's sporting goods to give, what is now I believe more than a thousand sets of free equipment out to kids who want to start playing the sport. So that goes hand in hand with a program that I think runs six weeks, eight weeks, in January, February to get kids introduced to hockey.
Jeremy:
But to your point in that, the big barrier to entry is the cost of equipment, which can be several hundred dollars even for kids that are five, six, seven years old. So that's certainly got a lot of kids involved in the game and has led to those massive increases in participation that I cited before.
Paul:
All right, that's awesome, Jeremy. Well, thanks so much for coming in and talking to us about hockey. We're hoping for another good season from the Penguins. Maybe a longer playoff run than last year. We got a bit of a break last year. I think they earned it after winning a couple of cups. But yeah, thanks again and yeah, we'll talk to you soon.
Jeremy:
No problem. Thanks to you.
Dan:
Right. This next segment. We're going to learn a little more about our co-host Logan Armstrong. Logan is from Eighty Four, PA.
Logan:
That I am.
Dan:
Now, we got talking about this and it got us, we started, you know, going down a rabbit hole and we got discussing why 84 was actually named 84? At first, I thought it was named after the construction company the-
Logan:
84 Lumber.
Dan:
Yeah, 84 Lumber, and it turns out I was wrong. That 84 is named after 84 PA, and there's a lot of history and a lot of different theories about how the town was named. Logan, do you want to go through some of them maybe?
Logan:
Yeah, sure. So there are a couple theories. 84 is quite the town. There's not much in it other than 84 Lumber, but you know, it's nice. There are a lot of theories on how it was named, the most popular of which is that it commemorated Grover Cleveland's 1884 election victory. Some other theories were that it's on mile 84 of the railway mail service. My favorite though is that it's located at 80 degrees and four minutes West longitude. This seems like the most probable to me.
Dan:
My favorite actually is apparently in 1869 general David "Crazy Legs" Hamilton had an outfit of 84 soldiers with them and held off an attack of Outlaws. Now that just sounds fantastic. Yeah.
Logan:
That sounds quite heroic. If that is the case. I am proud to be from 84 PA.
Dan:
Maybe you're a descendant of general David "Crazy Legs" Hamilton here. Is that possible?
Logan:
Yeah. I believe I'm Logan "Crazy Toes" Armstrong.
Dan:
Okay, keep your shoes on man! We don't want to see anything. Well, after this, after we talked about 84 we also started taking a look at some other weird names for towns in Pennsylvania here and if you go online, you can find quite a few of them. Logan, what were some of the interesting ones you like you?
Logan:
There are quite a few to choose from. A couple of my favorites were, while the all known intercourse, PA, which is actually the most stolen sign in Pennsylvania, where it says "Welcome to Intercourse" for good reason.
Dan:
Obvious reasons.
Logan:
Right. Going along that same route, a rough and ready PA was, they named it after a California Gold Rush town, so I guess they're rough and ready to get some gold out there. Can't blame them for that.
Dan:
I imagine that sign is also been stolen many times.
Logan:
Right. Okay. Then, well, let's play a game here. I'm going to give you some Pennsylvania town names and you're going to tell me how you think that those names came to be. How's that sound?
Dan:
Bring them on. I'm a repository of knowledge.
Logan:
Okay, great. Peach Bottom.
Dan:
Peach Bottom. This is simple. This is extremely simple. Everybody in the town of Peach Bottom is very short, and they're, but they're also Peach farmers, so they can only see the bottom of the peaches that come from the trees. It's kind of a shame because they've never seen the peach tops.
Logan:
That is a shame. Those peach tops are so beautiful.
Dan:
We have an actual reason why it's called Peach Bottom?
Logan:
In fact, Dan, you weren't too far off, Peach Bottom. Got its name in 1815 from a peach orchard owned by a settler named John Kirk.
Dan:
John Kirk was very short, as we all know.
Logan:
Right? Yes. Okay. Shickshinny, Pennsylvania. What do you think of that?
Dan:
Schickshinny. Ah, got it. Okay. Shickshinny is named after a famous dance created by the person who created Schick shaving blades. Fun fact, a few people realize that he had a dance. Whenever he would cut his face on his old rusty blades, he would do a little jig-
Logan:
A little jig!
Dan:
In a big thing because it can... to get the pain away, and so he decided I've got to create a better, more comfortable blade and so he created the Schick shaving blade.
Logan:
Well, I foresee-
Dan:
Everybody knows this.
Logan:
I've foreseen the future...We had the Whip, we had the Nae Nae. Next, we're going to have the Shickshinny going on in all the clubs in Pittsburgh.
Dan:
I think this one is actually one of those Indian words that have made a lot of Pennsylvania names here.
Logan:
Yeah. Yeah. It looks like an Indian word that either means the land of mountains or land of the fine stream.
Dan:
Or land of the cutting your face on your favorite razor.
Logan:
Yeah, I think that's the most common translation. Yeah.
Dan:
Sure.
Logan:
We are well beyond 100 words today. Thank you for listening to the P100 podcast. This has been Dan Stefano, Logan Armstrong, and Paul Furiga. If you haven't yet, please subscribe at P100podcast.com or wherever you listen to podcasts, and follow us on Twitter @Pittsburgh100_, for all the latest news updates and more, from the Pittsburgh 100.