Episodes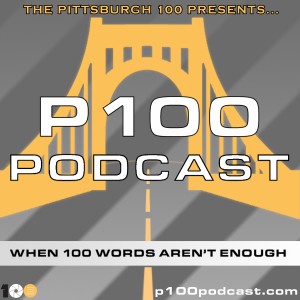 Tuesday Jan 28, 2020
Tuesday Jan 28, 2020
Pittsburgh's most famous magician, Lee Terbosic, visited the P100 Podcast for this episode, sharing stories from the road and close to home, the legacy of Harry Houdini and the success of the downtown theater Liberty Magic. 
Elsewhere in the episode:
— A look at why Super Bowl ads aren't always worth the multimillion-dollar cost incurred by the brands who can afford it.
— We talk about the major investments being made in Oakland and what it means for one of Pittsburgh's most vibrant neighborhoods.
— Our next Pittsburgh Polyphony features a look at the compilation album "Pittsburgh City Limits," from the production trio One800.
This episode is sponsored by WordWrite:
Centuries before cellphones and social media, human connections were made around fires, as we shared the stories that shaped our world. Today, stories are still the most powerful way to move hearts, minds and inspire action.
At WordWrite, Pittsburgh's largest independent public relations agency, we understand that before you had a brand before you sold any product or service, you had a story.
WordWrite helps clients to uncover their own Capital S Story – the reason someone would want to buy, work, invest or partner with you through our patented StoryCrafting process. Visit wordwritepr.com to uncover your Capital S story.
Logan Armstrong:        
You are listening to The P100 Podcast, the biweekly companion piece to The Pittsburgh 100, bringing you Pittsburgh news, culture, and more because sometimes 100 words just isn't enough for a great story.
Paul Furiga:                  
Welcome back to another edition of The P100 Podcast, the audio companion to The Pittsburgh 100 e-zine. I'm Paul Furiga. I'm the Publisher of The Pittsburgh 100, and the CEO of WordWrite Communications, alongside Dan Stefano, our Editor of The Pittsburgh 100 and brand journalist at WordWrite. Hey, there, Dan.
Dan Stefano:                
That's quite an introduction there, Paul. I normally just rush straight through it.
Paul Furiga:                  
I don't think you should, Dan. So Dan, what have we got coming up in this amazing episode?
Dan Stefano:                
I would say it is amazing.
Paul Furiga:                  
It's magical, isn't it, Dan?
Dan Stefano:                
Well, it's an exciting week because we are just ahead of Super Bowl Sunday here, so we're going to open up things with a discussion about Super Bowl ads.
Paul Furiga:                  
Yes.
Dan Stefano:                
Yeah. We're going to talk about how they might not be worth the money. I know few things are worth $5.6 million, although I wouldn't mind having some in my pocket.
Paul Furiga:                  
Sure.
Dan Stefano:                
I probably wouldn't spend it on that, but yeah. After that we're going to have a great conversation. It'll be me and Logan Armstrong who's not here right now, but he'll be joining us for a talk with Lee Terbosic. You could say he's Pittsburgh's most famous magician, and he's got some great stories to talk about, just basically magic in the area, Liberty Magic, new theater. He even gets into a discussion about David Copperfield, the time he got to meet him and really cool stuff.
Paul Furiga:                  
Great.
Dan Stefano:                
Following that, we're going to discuss some big developments in Oakland, and Paul, you're really interested in that, right?
Paul Furiga:                  
I am indeed. Oakland is home to Pitt, and not only where Logan went to school but one of my daughters, and been following Oakland for the better part of 25 years, first when I was editor of The Business Times, and now here at WordWrite. Still a lot going on over there.
Dan Stefano:                
Well, this WVU grad doesn't really hold that against your daughter or Logan.
Paul Furiga:                  
Well, thanks, Dan.
Dan Stefano:                
But Logan, he will also be joining us again with the Pittsburgh Polyphony segment at the end of the show here and we've got another great track for you to listen to, but yeah. I guess we're going to get to it then, right?
Paul Furiga:                  
Let's go.
Dan Stefano:                
Okay.
Paul Furiga:                  
All right, Dan, big weekend coming up, and I don't mean the list of home projects I have. I am talking about the Super Bowl. You going to watch?
Dan Stefano:                
Despite there not being any Steelers in it I supposed I will because that's just what you do as an American on Super Bowl Sunday. Right?
Paul Furiga:                  
It is what you do if you're an American male, now.
Dan Stefano:                
Females too, my wife's watching. We're actually going to host a-
Paul Furiga:                  
I agree. I do not want to be a sexist here at all. However, I do want to add that for those people who aren't as much into what's happening on the field, the Super Bowl has become, what we really want to talk about, the Super Bowl of advertising. Right?
Dan Stefano:                
That's very accurate, yeah. This year for a 30 second spot – $5.6 million, which is a pretty good chunk of change.
Paul Furiga:                  
It is. The game's on Fox, and we've got the San Francisco 49ers, and the Kansas City Chiefs. As you pointed out, two teams that most Pittsburghers don't care anything about.
Dan Stefano:                
We are actually hosting a Chiefs' fan at our house for the game. She's a former co-worker of my wife, and she has not too many other Chiefs' fans to watch the game with, so she's going to come over. I guess we'll have some sort of rooting interest.
Paul Furiga:                  
So, like it's a-
Dan Stefano:                
She's not a Patriots or Ravens fan, so we can root for it.
Paul Furiga:                  
Well, that's kind of the test. If the Steelers aren't in, and you just don't want to have anybody rooting for the Ravens, or the Patriots. Right?
Dan Stefano:                
Accurate.
Paul Furiga:                  
Now, Pittsburgh is in the game.
Dan Stefano:                
That's true. They are in the game.
Paul Furiga:                  
Kraft Heinz is going to do one 30-second commercial during the second quarter, according to the Pittsburgh Post-Gazette story by Teresa Lindeman, good friend of mine. It's going to promote Heinz ketchup, and a new experimental variation.
Dan Stefano:                
Right, this is what brings sriracha into the fold here, Ketcharacha, or something along those lines.
Paul Furiga:                  
HoneyRacha, my friend. Let's get the flavor blend correct there.
Dan Stefano:                
They've got too many blends these days, Paul. It's ridiculous.
Paul Furiga:                  
Dan, it's ketchup. The company's done very well for more than 100 some years on this very simple, enjoyable condiment.
Dan Stefano:                
That's right. There's nothing wrong with just plain ketchup.
Paul Furiga:                  
Well, they got pickles too, in the beginning.
Dan Stefano:                
I don't want mayo with it. I don't need all these other things.
Paul Furiga:                  
Dan, there's a Heinz flavor just for you. I am sure.
Dan Stefano:                
Yeah, it's called ketchup.
Paul Furiga:                  
Right, the point here though is, as you know, what about these Super Bowl ads? They cost so much money, and what really is the impact. This is kind of a perennial question in the marketing world, and we're marketing people, so maybe we can offer some insight, right? I must say that I get asked this question all the time this time of year. People want to know whether it's worth the amount of money that these things cost. The favorite answer of any consultant, including in our business, is it depends. Wouldn't you agree, Dan?
Dan Stefano:                
I'd say that's accurate. The depending is really who you're advertising to, and what type of advertising you're showing here.
Dan Stefano:                
There's a really good study from Stanford. This is about five years ago, but they found that the most effective ads were the ads that could connect their products to the sports viewership, the people who view sports. The idea of watching sports, how many ads are we going to see for beer companies out there today.
Paul Furiga:                  
Only one beer company because for more than 20 years, Budweiser has been the only beer to advertise in the Super Bowl.
Dan Stefano:                
Absolutely, yeah.
Paul Furiga:                  
Which, the study you're referencing, I thought this was a fascinating conclusion of the study. They looked at, like you said, the brands that are associated with viewing sports, duh, beer, soda, snacks-
Dan Stefano:                
Pop, but yeah.
Paul Furiga:                  
Yeah, here in Pittsburgh it's pop, and that, but anyway.
Dan Stefano:                
Just catching you.
Paul Furiga:                  
Thank you very much for correcting my failure to use Pittsburgh-ese.
Dan Stefano:                
Before I interrupt you, yeah.
Paul Furiga:                  
Budweiser, they looked at Budweiser, and they estimated that the sales of Bud went up $96 million, or almost 16% in the weeks following Super Bowl. Now, they also looked at pop, Coke and Pepsi. Now Coke and Pepsi both advertise in the game during the years that the study covered. Guess what? They cancelled each other out.
Dan Stefano:                
Yeah, that's what the interesting part of the study here says is whenever there's competition in the ads that's whenever, as you said, it cancels each other out, and they don't really see a boost from this, and it becomes less worth it to advertise in the Super Bowl. That's fascinating to me. Why do you think that is?
Paul Furiga:                  
What of the other things, there's another study that was done in 2017 by a company called Communicus. Generally speaking people are watching the ads for entertainment value. In my view they're the best short films that you can see at any given time.
Dan Stefano:                
I saw Michael Bay is directing one this year.
Paul Furiga:                  
Yeah.
Dan Stefano:                
Yeah, that's pretty wild.
Paul Furiga:                  
Well, the Heinz, the Kraft Heinz ad, is being directed by Roman Coppola who I believe is the son of the legendary film director. His daughter, his son, maybe a few other family members are actively involved in doing films, and TV, and stuff like that.
Dan Stefano:                
Godfather Part 4 where we only have 30 seconds of plot left.
Paul Furiga:                  
There you go.
Dan Stefano:                
Yeah.
Paul Furiga:                  
Yeah, these things draw talent. The study that I'm referencing from 2017 found that 80% of the people watching the Super Bowl, eh, no impact whatsoever from the ads in terms of buying behavior although they found them entertaining. Really, this is kind of the stereotypical thing where we started this segment. The people who care about the football on the field watch for the football, and those who get dragged to the party where people are watching the football they have something to watch too, and that's the advertising.
Dan Stefano:                
True.
Dan Stefano:                
All right, we're joined by a very special guest. He might be Pittsburgh's most famous magician. He's toured all over the country, across the world. He's appeared in some big acts with big names in his profession, big celebrities, and importantly he's never forgotten his Pittsburgh roots, helping to open Liberty Magic downtown in the cultural district. It's been open for about a year now, opened in February, 2019. He is Lee Terbosic. Thanks for coming.
Lee Terbosic:               
Thanks for having me, man.
Dan Stefano:                
We're really happy to have you. As I just mentioned, Lee, Liberty Magic is a relatively new venue, strictly for magic. It's close quarters. About what, maybe 80 seats or so?
Lee Terbosic:               
We have 70 seats, right at that 70-seat mark.
Dan Stefano:                
70 seats, okay, so really intimate space. If you're seeing some magicians, and they're doing sleight of hand tricks you're right there to see it. It's really cool stuff. They bring in magicians all over the world.
Dan Stefano:                
Can you describe your role in helping get it started, and how it's been doing for a year?
Lee Terbosic:               
Yeah, we've been doing very well. I'm happy to report I did 100, let me see if I got this right. Yeah, I hit 100 shows publicly last year just at Liberty, so I did three runs. I did an eight-week run of my show, In Plain Sleight, which is essentially all my standup comedy magic, illusions, mentalism. It was my touring college show that I took, and reworked, and re-marketed, and flipped, and had fun with, so I brought that to Liberty this year. Then I brought the... We sold out. Every show sold out for that run for eight straight weeks. I was going to come back in the fall with the show as well, this fall. But during that, over the span of this past year, I had a TV series come out on Discovery Channel called Houdini's Last Secrets.
Lee Terbosic:               
When I wrapped on filming that, there was some stuff that I still wanted to work on offstage. As I was working on it I developed this idea of wanting to bring a Houdini show where I would play Harry on stage to life. Now I have this beautiful venue with all this creative freedom to come up with stuff, and so I decided to create a show called The Life and Death of Harry Houdini. We decided to run that performance. I was working on that all last year, all summer writing it, scripting it, scoring it, everything from filming a documentary, all kinds of crazy stuff. But, the idea was to bring it to fruition for two weeks in October, the last two weeks of October because they're always such a big magic month, and it always circulates around because of Harry Houdini's death on October 31st of 1926.
Dan Stefano:                
Oh on Halloween.
Lee Terbosic:               
Halloween, yeah. We originally promoted that show. We put tickets on sale for just the two weeks. The show sold out in one day, all two weeks of the run, so we decided. The trust came back to me, and said, "Hey Lee, there's a pretty big demand for the show." I said, "Okay, well let's do it another two weeks."
Lee Terbosic:               
The thing about that is that in the show I was doing a stunt. I do the upside down straight jacket escape in the show, and so by me agreeing to extend the show two more weeks that's me agreeing to extend me putting my life on the line every single night.
Dan Stefano:                
Right, to remind everybody, back in I think it was 2016 you did this over... Was it over Penn Avenue, or Liberty?
Lee Terbosic:               
No, Houdini 100 took place on November 6th, 2016 at the corner of Liberty and Wood, so just down, right there on the corner.
Dan Stefano:                
You were hung pretty high in the air on that one.
Lee Terbosic:               
I was 100 feet up, upside down in a straight jacket.
Dan Stefano:                
I know Liberty Magic doesn't quite have 100 foot ceilings.
Lee Terbosic:               
We don't have that high of a ceiling, but it's like a 25, 28 foot ceiling height. Then we were able to find this really, really ingenious rig that we installed into the theater. I was able to be about, when my feet were up there I was about a foot from the ceiling with my feet because of the contraption. Then my head was... If you look up in the audience you're three feet away from me. I'm really hanging over top of you doing the straight jacket escape. This is as close as you can get to having it done, and being able to see it, but it didn't start just this year. I've been doing residencies in the city since 2015. That was the time period where I told my agent, and my manager. I was like, "Hey guys, I've been on the road a lot. I want to come home."
Lee Terbosic:               
I came home, and I started doing residencies at Dave & Buster's with a show called Bamboozled. Then I have a residency still to this day, I still have it going. It's called 52 Up Close at Hotel Monaco. That's just for 52 people at a time, and I'm only doing the show 52 times a year now.
Dan Stefano:                
You grew up in one of the southern neighborhoods in the city.
Lee Terbosic:               
I was a city kid actually, so I was born and raised in the City of Pittsburgh, Lincoln Place. Then I went to, when I was in my teenage years I moved to Baldwin. I went to Baldwin High School. Then from Baldwin, I went to Robert Morris University.
Dan Stefano:                
It's nice to see somebody come back, and try to give back to the culture of the city here, and you touched on it. Is there... People don't think of magicians quite as often. Do you feel like the culture still has really an interest in it, the profession?
Lee Terbosic:               
It is more than ever right now. We are in – I call it the magic renaissance period. Every year something's hot, and Hollywood always... You always know it's hot because Hollywood jumps on it, and they explode it. When magic's hot there was a ton of magic movies. It has peaks and valleys, and sometimes standup comedy's the hot thing, but magic has definitely had its due, I guess. That's because of all these amazing shows that are now promoting magic in the right way, like America's Got Talent and these great magic themed shows on television. That's getting the audience's attention out there to see it live, and that's one of the problems. You can't see magic live. You only watch it on your phone, or on television because most people might know about the Magic Castle in Hollywood, but other than that they're like, "Oh, I can see a magician maybe in Las Vegas", but they don't know that we have it right here. It's in New York. It's popping up in every city across the country now.
Lee Terbosic:               
The same way how a comedian tours the country, and goes to comedy clubs, you're starting to see that happen with magic now. Magicians are literally getting the chance to go to the Chicago Magic Lounge, perform there, perform at Liberty Magic in Pittsburgh, hit the Magic Castle in Hollywood. It's like that circuit is starting to come alive.
Logan Armstrong:        
Yeah, and it's nice to have an intimate venue, like Liberty Magic, like you said, where it's more of that up close, sleight of hand kind of things. When you first got into magic was that your passion, those up close, intimate sleight of hand, or did you like doing those bigger stunts, or how did it all start for you?
Lee Terbosic:               
It really, for me, started with sleight of hand. I was drawn to a pack of cards, learning card tricks, and fooling people, my parents, and my sister. Then it slowly kind of morphed because you have to figure out who you are on stage, and that can take time, and especially when you're a young kid because I was just bouncing all over the place. I loved David Copperfield. I loved Lance Burton. I loved Penn & Teller. I loved all these guys, and they all had their own thing. I'm a young kid that's into magic, so I'm absorbing everything. I'm a sponge.
Lee Terbosic:               
Over those few years of coming up, I dabbled in a little bit of everything from making my sister disappear to mind reading stuff, to trying big illusions, and stuff like that. As I grew as an entertainer, and grew as a performer I realized what my strong suits were, and what the stuff I really dug, and so I veered into that type of magic in which, for me, was a pack of cards. I'm obsessed with doing card tricks, but over time I saw avenues like learning escapes, and my infatuation with Harry Houdini, and that comedy magic, and illusions, Amazing Jonathan, all these different personalities that were out there were in one hand or not shaping me as a performer for what to bring to the audience.
Logan Armstrong:        
You mentioned Harry Houdini as a big influence, and you obviously had the huge stunts, Houdini 100 back in 2016. Are there any other upcoming, crazy stunts that we can expect, or anything big for you on the horizon?
Lee Terbosic:               
Yes, I'm always working on something. My infatuation with him began in 2010. Every kid who gets into magic knows who Harry Houdini is, but I read his stuff as a kid, but I wasn't mesmerized by him back then because, like I said, I had so many magicians to look into, and figure out, and try to find out how all this stuff was happening. For me it was when I was in, it was in 2010. I was in New York City with my mentor, and fellow Pittsburgh magician, Paul Gertner, and Paul has had a big influence in my career. When I was helping him produce his show in New York before we left he asked me. He said, "Lee, do you want to see if we can find Harry Houdini?" At that moment I was like, "Wait a minute. We're going to go find Harry Houdini right now? What do you mean? Where's he at?"
Dan Stefano:                
That's quite a trick.
Lee Terbosic:               
That's quite a trick, right, like he's been dead for a long time. But, he goes, "No, he's buried I think in the cemetery right up in Queens." My history, the little history I had of Harry at that moment, I assumed that he had been buried in his hometown, which was Appleton, Wisconsin. I'm thinking, "Why would he be buried in Queens?" That's when Paul was like, "No, New York was a big part of his life, and helped shape him, and duh, daduh, daduh", and so we went and found Harry that day.
Lee Terbosic:               
That was in 2010. We went to his grave, and we stood there. It was kind of cool to be with another magician, and learning with him. When I got back Paul gave me a book. It's called the Taschen Magic Book. It's this giant coffee table book, very pretty. That night when I was going through the pages of that book I stumbled upon the photo of Harry Houdini doing the upside down straight jacket escape in Pittsburgh . And that was the moment that I went, "Wait a minute." It hit home. It came full circle. I was just at his grave in New York. Now I'm standing in my living room in Pittsburgh, and this dude played my city, and did the biggest trick I've ever seen in this city. I'm going, "Well, I have this information now. It's dated." I could figure out where it was in Pittsburgh. I was like, "I have to bring this back to life for this generation." That was when I set out to create Houdini 100. Then since then I've done the show, Houdini's Last Secrets, where I did a whole bunch more of his tricks on television, and then brought it to the stage with The Life and Death of Harry Houdini.
Lee Terbosic:               
We're working on a documentary right now from all the stuff that I was able to shoot over the summer. I shot at the Magic Castle in Hollywood with a guy named John Cox. I filmed at the Houdini Museum in New York City with Roger Dryer. Then I also got a special invitation tour, invite only, from the people that own Harry Houdini's actual home in New York. It's in Harlem. It's called 278 West 113th Street. He bought the house in 1905, and he lived there up until the day he died in 1926, so he lived there about half his life with his family, and his wife.
Lee Terbosic:               
I was all these things. I was so fascinated with his home, and so that's when I, when I was figuring all these things about his house I decided to make my live show a performance in his living room, so when you come to see The Life and Death of Harry Houdini at Liberty Magic you literally saw me on stage portraying Harry Houdini, but in his home at 278 in Harlem.
Dan Stefano:                
Did you recreate?
Lee Terbosic:               
Yeah, we did because it was all, the whole performance was centered around the bookcase. Now, if you remember in 2016 I recreated the photo of Houdini 100. That was one of the big things. I took the photo from 1916, and I got the exact same image of me doing it in 2016. It's the exact same spot Harry was hanging in the city.
Lee Terbosic:               
When I was doing my research about Harry Houdini's house I found this photo, which is an iconic photo, of Harry standing against a bookcase with all these books. If you Google it, it's one of the first photos that pop up. Well, I found out that photo was taken in his home at 278. That bookcase was very special to Harry Houdini. It housed all of his collection of secrets. It literally was the jewels of magic right there in that photo.
Lee Terbosic:               
Well, when he died all of his magic got broken up all around the world, and that house was obviously sold, but that bookcase in that home remained to this very day. But, in 2016, or 2017 when that house went on sale that bookcase disappeared out of the living room. And if you look at the photo it's a gigantic, beautiful bookcase, and you're going, "How did this disappear out of this photo?" Well, the one person that made it disappear was David Copperfield. He is now the biggest collector of magic in the world.
Lee Terbosic:               
Over the years, over the past 30 years, his collection, he has bought up everything Harry Houdini, and he's taken it all to a secret warehouse in Las Vegas, and that's where his collection lives. In the magic world we refer to it as the Smithsonian of magic because it is unbelievable, but yet it's still a secret. It's the secret where it's at. It's in the secret warehouse, and it's his museum. The only way to see this stuff is by David Copperfield. He's the only one that will allow people in and out to see it.
Lee Terbosic:               
Once I had figured out all these things about Harry's house, and this bookcase, and I was like, "Well, the only thing I got to do is I got to get into this. I got to go see David. I got to get into this museum." That's what I did. I hit up my... Going back, on the Discovery show I did that show with a guy named George Hardeen, and George Hardeen's claim to fame is that he is the great grand-nephew of Harry Houdini, so I'm friends with the family now. I'm in the family, so I know that if I took George Hardeen, a Houdini, and I put him in front of David Copperfield, the biggest Houdini collector out there, and lover of magic, and Harry Houdini, I knew that I would see something special something happen, so that's what I did.
Lee Terbosic:               
I hit up George. I said, "George." He lives in Arizona. I said, "Hey man, do you want to meet me in Las Vegas? I want to take you to something." He was like, "Sure." So, we all-
Dan Stefano:                
That's all you said, "I just want to take you somewhere."
Lee Terbosic:               
He's like, "Oh dude, Vegas, I'm in." He's such a fun guy. George met me in Las Vegas. My friends from England came over, and we all went and saw David Copperfield that night. We got front row tickets. Then I arranged for a meet-and-greet back stage. Then we went back backstage, and I introduced. It was really cool. I got to introduce George Hardeen, a Houdini, to David Copperfield. It was in that moment that David Copperfield was meeting George where I can see David literally becoming a kid. He's like, "Wow." You could see the resemblance, and so that night he took us to see the museum, a private tour by David Copperfield of his museum, and he let us see, and touch all the Houdini stuff, but that bookcase that was in the home. That bookcase is in his collection. What David Copperfield did is he took me to the exact same location on that bookcase, and he posed me, and he took a photo on my phone. He took the photo, and I recreated that photo from the bookcase from Harry Houdini.
Dan Stefano:                
Wow, that's pretty amazing.
Logan Armstrong:        
Wow, that's incredible.
Lee Terbosic:               
It's been a wild ride the last couple years, but obviously still working on more to answer your question. I still have some more stuff I'm working on.
Logan Armstrong:        
Well, once you visited that I'm sure you have a ton of secrets-
Lee Terbosic:               
Oh my God, man.
Lee Terbosic:               
It opened up a can of worms because getting to sit down, and talk to David Copperfield about Harry Houdini, and just his infatuation with him, and the stuff that he was able to uncover. These things are just implanting in me. I'm just going, "Oh boy, where's this going to take me next?"`
Dan Stefano:                
That's amazing the impact. Yeah, the impact he still has on that profession.
Lee Terbosic:               
Absolutely.
Dan Stefano:                
There's a lot of different types of magic. There are these big escapes. There's also the smaller sleight of hand. What do you think is the unifying theme of all of that, and why people are still into magic, and why people are going down to Liberty Magic, and selling out?
Lee Terbosic:               
You know what? That's a great question. I think it's the you have to see it with your own eyes because I think in this day and age people have become so skeptical of stuff. Everything, fake news, and deep state, and now there's videos where it's like Obama talking, but it was obviously made by some other algorithm. It's that type of skepticism that has come full circle where people are just going, "Screw it. I'll go see it live. I got to see it from my own two eyes."
Dan Stefano:                
Lee, can you tell us how people can follow you online, so your social accounts, and any way they can get online to see shows at Liberty Magic too?
Lee Terbosic:               
Absolutely, follow me at leeterbosic, L-E-E-T-E-R-B-O-S-I-C, on Instagram, Facebook. You can visit www.leeterbosic.com, 52upclose.com, and then for everything for Liberty, that's all run through the trust, so it's trustarts.org. Then /libertymagic. So, you can find all the upcoming shows, and other magicians that are coming to play that city, and when I'll be back as well.
Dan Stefano:                
That's great, well, Lee, thank you so much for coming, and everybody just try to get down to Liberty Magic. It's absolutely worth the trip. I've been myself.
Lee Terbosic:               
Come see me.
Dan Stefano:                
Thanks, Lee.
Logan Armstrong:        
Centuries before cell phones and social media human connections were made around fires as we shared the stories that shaped our world. Today stories are still the most powerful way to move hearts, and minds, and inspire action. At WordWrite, Pittsburgh's largest independent public relations agency we understand that before you had a brand, before you sold any product or service, you had a story. WordWrite helps clients to uncover their own Capital S Story, the reason someone would want to buy, work, invest, or partner with you through our patented story crafting process. Visit wordwritepr.com to uncover your Capital S Story.
Paul Furiga:                  
All right everybody, in this segment we want to talk about economic development. No, don't turn off the podcast just yet because we want to talk about sports, and we want to talk about medicine.
Dan Stefano:                
Sports, now you've got my attention.
Paul Furiga:                  
See, there you go, Dan.
Dan Stefano:                
And I've taken medicine before.
Paul Furiga:                  
I think you guys both have some perspective. You've taken medicine before?
Dan Stefano:                
Yeah.
Paul Furiga:                  
Dan, you're married to a doctor. You have a little bit more insight than that. Give yourself some credit, dude.
Paul Furiga:                  
All right, so recently in the news two fairly major announcements related to Oakland, University of Pittsburgh, UPMC. University of Pittsburgh has announced a $250 million campaign to upgrade its sports facilities dubbed by the athlete director, Heather Lyke, as Victory Heights, very cool thing. We're going to dig into that a little bit.
Paul Furiga:                  
The other thing we want to do is just offer a little perspective here. Most people don't know this, but where the universities are in Oakland, and where most of the region's major medical centers are is like the fourth largest employment center in the entire state of Pennsylvania. People from outside the region, they look at Pittsburgh, and they're like, "Oh steel, blah, blah, blah, blah." Some people are into the, "Oh, it's eds and meds", but they really don't understand, I don't think, what's happening in Oakland. It's now become a place where you've got these great universities, but you've also got a lot of economic activity.
Paul Furiga:                  
For instance, Victory Heights gets announced, and the same day UPMC Enterprises, which is the venture capital arm of UPMC, who knew a hospital system had that, announces one billion dollars in life sciences investments over the next four, five years.
Dan Stefano:               
That's enormous.
Paul Furiga:                  
It's incredible, right? Now, the thing about that is we don't see that as much as what we're probably going to see with Victory Heights. If you're listening to this podcast, and you don't even like sports I got to tell you. It's really bad up there, and Dan is a former sports journalist, and-
Dan Stefano:                
Currently, yes.
Paul Furiga:                  
... Logan is a Pitt grad. I'm sure you guys have some perspective on that. Dan, what do you think?
Dan Stefano:                
Yeah, that area where Victory Heights is going to be, and I guess that's the upper campus. Logan, you're the grad. You know exactly, a little bit better than I do, but I don't want to say it's a depressed area, or anything, and they've definitely improved some aspects I believe in terms of their soccer stadiums, and their baseball, softball, but you've got the Fitzgerald Field House up there, which is decades old now. I think it pre-dates, maybe it goes beyond the '50s. I don't have the exact age on it, but I don't think there's any air conditioning there. I know teams are kind of, whenever they try to practice there, it's really crowded. I think what we saw on some of the reporting on this that the wrestling team – half of their team can practice at one time because they're worried about what if they get the entire team out there, the other weight classes, they're going to bump into each other.
Dan Stefano:                
This is needed to replace certain facilities, replace the Fitzgerald Field House with a 3,500 seat arena, where the wrestling team, the volleyball team, the other teams can compete, new arena there, a performance center, an indoor track. This will bring Pitt up to the level that other ACC schools are, and just other universities that are of the same level in terms of these public universities that have giant athlete departments.
Dan Stefano:               
These types of investments are needed from time to time at universities. A lot of people think, "Well, okay, it's just athletics", and you think volleyball, and wrestling, and gymnastics, and all of that. They aren't the revenue producing sports, but it helps enrich the university. I think a lot of this is going to be done with donor money. There's going to be some financing that's going to be involved in it. As any of these projects go it's probably going to go over budget a little bit. You hope not, but it probably will. You have to have this happen from time to time, and Heather Lyke, who's the AD there, kudos to her for actually bringing something like this to fruition. It's been talked about, maybe not in this exact structure for a while, for Pitt Athletics here. The Victory Heights label, I don't know how long that label has been on it, but she made this happen pretty quick in what has been a relatively short tenure right now with Pitt.
Dan Stefano:                
Logan, I know you've probably got be excited to see something like this happen as a recent Pitt grad.
Logan Armstrong:        
There's mixed emotion about it. There's a lot of things, and there's a lot of pros and cons in having a campus in a city environment, and one of the things that's going to happen is this new 3,500 seat arena that they're building on the lawn next to the Pete, that takes up a big area of green space that you don't really have much anywhere else on Pitt's campus.
Logan Armstrong:        
But, like you said, it's definitely needed that there's going to be some facility updates, and renovations because, yeah. The Fitzgerald Field House is old, and there's definitely some renovations that could be of great benefit to other sports teams even if they're not the most revenue generating, but they're also planning on replacing the student recreation center, the gym, and the Pete, and outsourcing that somewhere else. But, I'm hoping that the Fitzgerald Field House becomes a student, not a student athlete, but a student recreational athletic center where they're going to be able to replace some of the facilities that aren't needed to be quite up to standard for say the basketball team, or the football team, but for other gyms, and recreationally athletic facilities that are coming.
Logan Armstrong:        
Definitely excited for the investment in the athletic teams. I just hope that it's done with care.
Paul Furiga:                  
With students in mind.
Logan Armstrong:        
Yes, exactly.
Paul Furiga:                  
That's the perspective you have. Just a couple of statistics to give people some perspective. This billion dollar UPMC Enterprises investment and life sciences companies that's going to occur. It's going to be largely invisible compared to Victory Heights, and what you were just talking about, Logan. Here's where Pitt ranks nationally. It is number five in the country for academic research grants, primarily from the National Institutes of Health. We all love Pitt sports except for those of us, Dan, who went to WVU, or some other school. No Pitt team ranks there, and that's a big part of what Victory Heights is about.
Dan Stefano:                
Women's volleyball team was very good this year though.
Paul Furiga:                  
The women's volleyball team is fantastic. As you pointed out, the wrestling team is great. Heather Lyke, she's dynamic. I met her. I've seen her speak. She makes a great case for why this kind of investment is really relevant to the overall health of a university because you used this term, Dan, non-revenue producing sports, and however you feel about college athletics, a lot of the negative attention towards college athletics goes towards those revenue-producing sports, basketball, men's football. These non-revenue producing sports at Pitt, the Fitz. It's 68 years old. There's no air conditioning, and that's where just about every team does its training, and practicing except for basketball, and for football.
Paul Furiga:                  
To put some things in perspective, Craig Meyer from the Post Gazette did a really excellent story last August. In 2017 Pitt spent nearly $81 million on athletics. That's a heck of a lot of money, right?
Dan Stefano:            
Right.
Paul Furiga:                  
Ranked ninth of the 15 ACC schools, and while they increased spending 36% over a five-year span dating back to 2012, the third sharpest increase of any ACC school, they only ranked ninth. They are just way, way, way behind.
Paul Furiga:                  
There is an award that is given every year in collegiate athletics. It's called The Learfield IMG Director's Cup, and basically the top 150 largest division one universities in the country can compete for this cup. Pitt usually ranks around 135 or something.
Dan Stefano:                
Right, I think this kind of collates the success of all the athlete programs together.
Paul Furiga:                  
Yes, everything. It's how they recruit, how the students perform academically, how they rank, the win/loss record. I'm sure that's everybody's thinking about, "Oh, it's just win/loss record." It's a lot more than that. It's a point system, and it also is tied to how each sport performs in the NCAA championships. Again, just for perspective Pitt ranked behind Vermont, Middle Tennessee State, Montana State, Illinois State, and New Hampshire. If you're a Pitt fan, a fan of anything Pitt, that's probably not the competition set that you want to have yourself ranked-
Dan Stefano:                
That's not to knock those universities, but Pitt being a-
Logan Armstrong:        
Middle Tennessee State was the one that knocked off Michigan State in the first round of that March Madness a few years ago, remember.
Dan Stefano:                
That is true.
Logan Armstrong:        
Never forget.
Dan Stefano:                
We're not impugning these teams that are in the say 1AA ranks, but Pitt, if it's going to call itself a top tier school, and it's going to rank as one of the higher public universities in the U.S., as it typically does, probably your athletics should be up there too at a certain level. But, as you mentioned, in terms of development in Oakland we're not stopping at athletics here in the city. There's quite a bit going on, and the university's pretty deeply enmeshed in that.
Paul Furiga:                  
That's really the point that I think merits the segment on the podcast today is we're going to see stuff happen with Victory Heights. It's long overdue. Hail to Pitt for those of you who are Pitt grads, or care about Pitt.
Logan Armstrong:        
Yes.
Dan Stefano:                
Some people, Health Pitt maybe.
Paul Furiga:                 
I paid to put a daughter through Pitt, so HTP. For everybody else, remember this is part, like you said Dan, of a bigger picture where the universities, in this case Pitt, and affiliated institutions like UPMC, continue to be huge economic drivers.
Dan Stefano:                
Yeah, sure. Then we can clean up South Oakland next where Logan used to live.
Logan Armstrong:        
It has its charms.
Paul Furiga:                  
Sure it does. I do like the Mad Mex.
Logan Armstrong:        
The OG Mad Mex.
Paul Furiga:                  
Right.
Logan Armstrong:        
Okay, for this episode's Pittsburgh Polyphony where taking a step back from just looking at a single artists, and we're actually going to look at local production group that all went to California University of Pennsylvania together called One800. They've been doing some crazy work. They used to work solely with a Pittsburgh artist, My Favorite Color, who I believe I'm mentioned on here before, but they've just recently put out an album with a slew of Pittsburgh artists that range from hip-hop, to R&B, to pop, and they're doing some really cool things.
Dan Stefano:             
Is the album called Toll Free?
Logan Armstrong:       
  The album is not called Toll Free, but I think we need to get in touch with them for the next tape they do.
Dan Stefano:                
There's many marketing opportunities here to be had, Logan come on
Logan Armstrong:        
Yeah, so the album is actually called Pittsburgh City Limits, which fairs well with the talent roster that they have on it, but it has artists from Clara Kent, to Mars Jackson, Pick Patek, Young Guy Burkett, some of these names that I've mentioned before, but, as I've said, they're all out of California University of Pennsylvania. Cody Maimone, Jeremy Rosinger, and Don Pomposelli, they're the three that have been working hard, and they've been doing some really cools things. A lot of times artists will tell you that the Pittsburgh music scene is supportive, and other times it's not so much, so it's nice to see these guys coming together, and really spreading some light onto Pittsburgh artists.
Logan Armstrong:        
It's the first thing, the first type of project I've seen like this coming out of the city.
Dan Stefano:                
Yeah, it sounds really great. As you said, people want to be supportive of each other in this community because it's hard to make it out from a city of this size, and really anywhere in the music industry, even if you're somewhere in Los Angeles, or something where there's a million people trying to make it the same way, or New York City, so it's something kind of special too that it comes from a small town, like California where I suppose, did these people meet in a university down there?
Logan Armstrong:        
Yeah, they met at university. They all went to Cal U together. I'm not sure if that's where they met My Favorite Color, but yeah. These three guys have been at it for a few years. And so how this album came about is they dubbed it the Pittsburgh Sessions. They would get these artists in there, in their home studio, and just vibe with no real preconceived notions of what kind of stuff they wanted to make. They just bring the artists in, and go with the flow with whatever happened. It came out with a really great project. There's some real nice songs on there.
Dan Stefano:                
What are we going to hear from Pittsburgh City Limits today then?
Logan Armstrong:        
We got a great one for you. It features the Pittsburgh artist Walkney, who I think I failed to mention earlier, but Walkney. The song's called Bad Reputation, so it's a nice upbeat tune, maybe a little reprieve from this horrible Pittsburgh weather we got here, so we hope you enjoy it.
Dan Stefano:                
You got a great reputation by my books there, Logan.