Episodes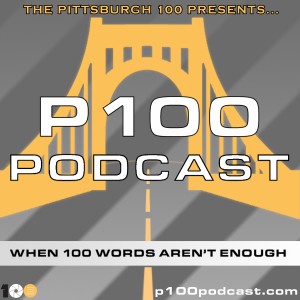 Wednesday Jan 01, 2020
Wednesday Jan 01, 2020
For the first P100 Podcast of 2020 (or the last of 2019, depending on when you listen), we're taking a broad look at Pittsburgh over the past 20 years – then glimpsing at the future.
We'll talk about the ups and downs, the positive trends and the disappointments that need to be fixed to make Pittsburgh more livable for us all. Then we dive into a discussion on how the region might look very different by 2029.
And don't miss our latest Pittsburgh Polyphony with Steve Soboslai of Punchline, the great punk band from Belle Vernon performing an anniversary show this week.
This episode is sponsored by WordWrite:
Centuries before cellphones and social media, human connections were made around fires, as we shared the stories that shaped our world. Today, stories are still the most powerful way to move hearts, minds and inspire action.
At WordWrite, Pittsburgh's largest independent public relations agency, we understand that before you had a brand before you sold any product or service, you had a story.
WordWrite helps clients to uncover their own Capital S Story – the reason someone would want to buy, work, invest or partner with you through our patented StoryCrafting process. Visit wordwritepr.com to uncover your Capital S story.

Full Transcript
Logan:             
You are listening to the P100 podcast, the biweekly companion piece to the Pittsburgh 100, bringing you Pittsburgh news, culture and more, because sometimes 100 words just isn't enough for a great story.
Dan:     
Hey everybody, welcome back to the P100 podcast. I'm Dan Stefano, I'm here with Paul Furiga.
Paul:                
Hey, hey.
Dan:                
And Logan Armstrong.
Logan:             
How you doing, Dan?
Dan:                
Okay. Depending to whenever you're listening to this, it could either be the last day of the 2010s, or it could be really early in the 2020s here. It's an interesting time, we're splitting decades finally.
Logan:             
Or it could be 2027 when you're listening to this, we don't know.
Paul:                
Could be, we have a really good archiving service, don't we?
Dan:                
Could be an alien listening to this as a history and saying like, "What was wrong with them?" No, it is an interesting time and Paul, before we get started here, you brought up a fun fact about changing decades.
Paul:                 
Yes, I am sure that many of our listeners will doubt this until I explain it, but I can speak with authority as the oldest host on this podcast because I've lived in parts of eight decades, but I'm only 61 years old.
Dan:                
That's really impressive though, eight decades.
Paul:                
Eight decades. But see, I was born-
Dan:                
Two days into the new one, but-
Paul:                
That's right. I was born in 1958, and I got the '60s, '70s, '80s, '90s, the aughts, the teens, and now I'm into the twenties.
Dan:                
Pretty amazing. And myself I've lived in five. Well again, you know we're recording this I think before the 2020s begin, but I think I got a good chance of making it there. And Logan Armstrong, you as our youngest host, you still have lived in quite a few decades, so you're pretty long-
Logan:             
Yep. Repping four decades. Snuck into the 90s there for a few years. Yeah, I'm only 22 now, so it's kind of weird to think about.
Dan:                
That's impressive, a Clinton baby over there. All right, yeah it's fun to look at the calendar and think about these things. But the one thing we are going to do on today's episode is take a look back at where Pittsburgh has been, how it has changed within the 2010s and even the aughts that we talked about, and then we're going to talk about going forward here. What the 2020s might hold for Pittsburgh. Through it all there are ups and downs, and the city obviously has been on probably more ups than downs since we've gotten to 2000s. But there have been some really, some sad moments and there are a lot of important cultural things that I think are holding us back from being a more perfect Pittsburgh right now.
Dan:                
So we're going to get into all of that and then we're going to wrap it up, we're going to make a little bit of a hard right turn there, but we have a really exciting Pittsburgh polyphony segment. Logan, do you want to talk about that?
Logan:             
Yeah, sure. We're going to be sitting down with Steve Soboslai of Punchline, a band that's from around the Pittsburgh region out of Belle Vernon specifically, that's done some great things over the 20 plus years that they've been around, traveled the world. So it was great to sit down with Steve and kind of talk about what's coming up for them.
Dan:                
Yeah, that might be a band that's like four decade too.
Paul:                
There you go.
Dan:                
Yeah, they've been around for quite a while. Okay. We're going to stop having fun with the calendar, but we're going to get to it, and thanks for being with us today.
Dan:                
All right guys, to start today's episode we are going to talk about the Pittsburgh of the past. Pittsburgh of the recent past here. Mostly it's a look back at the 2010s and we can include the aughts in there as well because it's been a really interesting 20 years for Pittsburgh. I think if you go back to the year 2000, for myself, I was 13 years old and it just seemed like this crazy future thing-
Paul:                
I wasn't 13.
Dan:                
You were not 13?
Paul:                
No, I was not.
Dan:                
Okay, 15, 16? Okay. Pushing that?
Paul:                
No, I was not.
Dan:                
Logan, I think you were about three.
Logan:             
I was about three years old, yeah.
Dan:                
All right. So for myself, whenever that was coming around, it seemed like this crazy future time. And there were a lot of cool things that were on the horizon at that time, we knew that the North Shore was going to be redeveloped. It was basically just a gravel lot and back then it was only called the North Side, but some new baseball and football stadiums were going up. And now 20 years later, there are a ton of restaurants, there are office buildings, and was kind of the start I think of taking back our rivers in Pittsburgh, and changing it around there. And Paul, I know you were around for that as well, right?
Paul:                
I was actually at the groundbreaking for PNC Park.
Dan:              
Were you really?
Paul:                
Yes. And it was my job to be the personal handler for Vince Lascheid, who was for decades, the organist for the Pittsburgh Pirates, who most people don't know lives on, digitally only. God bless Mr. Lascheid, he left us several years ago. The Pirates however recorded, I think pretty much everything he ever played. And somebody pushes a button somewhere in PNC Park when they want Vince Lascheid and out comes some organ music.
Dan:                
Right. Well, you know, it's not just baseball and football stadiums that helped turn around this city here. Really it was the medical and the tech boom. And those hospitals are still around.
Paul:                
And also energy.
Dan:                
Energy as well, that's right. That's correct. Yeah, that's one thing we'd be remiss to say, in the 2010s it was really the shale industry as it exploded here in this region. You know, we're sitting on top of some valuable resources, especially in the rural parts, that's valuable land out there.
Paul:                
We got gas, Dan. And we have the okay kind.
Dan:                
Right, the okay kind.
Paul:                
At least in terms of economic activity.
Dan:                
Yeah. It's better, let's put it that way. It's better, it might not be perfect, probably another 30 years from now we're going to be seeing a different type of energy. But for right now, it's I guess let the good times roll on that. But as we mentioned as well, the tech industry was a big part of what helped turned around the city in terms of how I think the rest of the country views it. And just in terms of the type of people that are attracted to it right now, it's a younger place. Logan, I think you'd agree with that. Slightly younger.
Logan:             
Yeah, yeah, no, definitely. And we've been able to kind of make Pittsburgh a healthcare hub, a cluster where we kind of finally have a face to a name as a sector or an industry. We have a lot of major healthcare players here. But as you noted, have a lot of tech companies coming in, especially to the Strip District. I mean, we have Uber here.
Dan:                
We have Apple.
Logan:             
Yeah, Apple.
Paul:                
We have the Facebook Oculus unit, the VR unit is based here.
Logan:             
Oh, I see. I didn't even know that. We have ARGO-
Paul:                
Stick with me Logan, you'll learn something.
Logan:             
Yeah, so we have a lot of tech companies coming in and-
Paul:                
Let's not forget, Duolingo.
Logan:             
Yeah, no, can't forget Duolingo.
Paul:                
Recently acknowledged as the first unicorn in Pittsburgh.
Dan:                
That's correct, and that's fantastic for them. That's so exciting to see. I've used their app before and it's a very fun way to try to learn a language. And it's useful, and so we're thrilled to see that for a company from here that really got its start here as well.
Paul:                
I'm waiting for the Yinzer language translation.
Dan:                
Exactly.
Paul:                
They have many languages on there and they roll out new languages quite frequently.
Dan:               
"Oh, it's slippy outside," you know?
Paul:               
That's right.
Dan:                
Try to pronounce that. What does that mean? But yeah, again, I suppose whenever I said earlier that we are a younger place, it might seem that way, but we really haven't made the population gains just yet. We've got a census coming up that'll probably explain a little more in detail of where we're at. But you know, I think there's a foundation that's being built here that they can use going forward. And basically it's going to be, as always in Pittsburgh, how these public/private partnerships work together to help foster new people coming to the city and just keeping those brains that come out of universities like Pitt and CMU, keeping them in town to build companies like Duolingo.
Paul:                
Yeah. And Duolingo for instance, has had a very well recognized campaign in San Francisco, a billboard campaign essentially saying if you lived in Pittsburgh you could afford this kind of a house, and you could do this and you could do that, in order to recruit talent. And that's been somewhat successful over the years. But if you think about Pittsburgh for a moment, kind of like a forest, get that picture in your mind, what you're saying Dan, is a lot of the older trees obviously they're dying. And as they come down in the forest, the forest is still smaller.
Paul:                
The population though, makes sense, it's the young trees. And so what we're seeing now is while the population of the city of Pittsburgh continues to shrink sadly, the population overall is younger. And one of the reasons is people who grew up in the region, but also people who have moved to the region just like you said, for the hipster vibe. We probably don't have enough man buns and pickle shops. But hey, we got charcuterie and we got all kinds of great restaurants and the club scene is okay. Right, Logan? I mean it's not New York, okay.
Logan:             
No, it's not New York, it's not LA, but you can have fun on weekends.
Dan:                
It's a cool place to be.
Paul:                
Yeah. So there's potential there, right, Dan?
Dan:                
Absolutely.
Paul:                
But there's still a lot of work that needs to be done if this is going to be sustainable and if we're going to grow.
Dan:               
That's right. And while it's exciting to see neighborhoods like Lawrenceville and the Strip District grow and become certainly different places from the way they were even at the beginning of the 2010s, or going back to the year 2000 itself. We'd be remiss to say, to leave out that this has also had an adverse effect on a lot of our population here. The housing in some of these neighborhoods is just untenable anymore. If you build these beautiful looking new apartment complexes, they are affordable only to a certain segment, and these are the challenges that are going to be facing Pittsburgh going forward here.
Dan:                
And just recently even, we had a really interesting and a really sobering development within the city government here where the city council voted to declare racism a public health crisis in Pittsburgh. And that sounds a little shocking, it sounds to some people like it might be extreme, but the stats here are, they came from a-
Paul:                
They're hard to argue with.
Dan:                
Exactly. Came from a report from Pitt earlier this year and again it's, they're hard to argue with. This is from a Post-Gazette article here, really helpful to kind of pull this out. I believe it's from the December 5th issue here, "African Americans compared to whites are living shorter lives, more due to conditions like heart disease rather than violence. They're suffering higher rates of infant mortality and extreme low birth weight. They're five times as likely to grow up in poverty."
Paul:                
You know, I came to Pittsburgh in '94, returned back here after living elsewhere, and I have to say that a lot of the statistics in that most recent report sadly build on earlier reports, some done by the same department at Pitt. And in some ways some things have gotten worse, and people from Pittsburgh are proud generally speaking of their hometown. As you pointed out though, Dan, we've got enormous pockets of, I would say embarrassing lack of economic attainment, that aligns with race and ethnicity. And that is just not the kind of place that I think any of us would want this region to be.
Paul:                
And it relates to some of the other things we talked about a few minutes ago, such as building a workforce of the future. If you're going to leave a significant percentage of the population that already lives in the region behind in terms of educational and economic attainment, how are you going to build the best region you can build for the future?
Dan:                
That's correct. And I think maybe the line that really describes this the best, this comes from Councilman Ricky Burgess, who is also a reverend within the city here. He was one of the authors of the bill that declared racism a public health crisis, and he said, "America's most livable city is also the least livable city for African Americans," and that's a hard thing to hear. And look, we three are three white men. We frankly we were born with a lot of privilege here. And I think an important... bills like this are important to try to set up structures that will help lift up all Pittsburghers, that will try to create an equal playing ground here for whenever people are born and whatnot.
Dan:                
And an important thing for people who are like ourselves here who, we've got certain just built in advantages. You got to listen, and have to understand some of these issues that are affecting segments of our society. And so whenever you see a great new apartment building going up in the Strip or another great new tech startup that's doing great but maybe only employees 40 to 50 people, need to understand that we're not... And need to try to make efforts to not leave behind everyone. People who are in poverty, people who are in these neighborhoods that are being a little left behind.
Paul:                
This is probably the most important issue the region needs to grapple with in the views of many leaders in the region. And really today in the podcast episode as we talk about Pittsburgh of the future, I believe personally this will be the most important measure of whether the next decade is successful, whether or not we've been able to address this problem.
Dan:                
That's correct. And we're going to be jumping into our next segment here pretty soon about Pittsburgh in the 2020s, but let's make sure that we don't forget these points as we discuss the exciting things that are coming. And hopefully again, measures like this that were just passed by city council, that they can help assist all Pittsburghers and again, make us a more perfect city going forward.
Dan:                
All right, Paul, Logan, we're going to talk about Pittsburgh in the 2020s now here. Again, an exciting time because Pittsburgh has come a long way in the past 20 years here, and this next decade, by the time we reach 2029 this place could look very different right now. And a lot of the stuff has already been kickstarted here, and within the next couple of years we're going to see this city is just going to look very, very different. And that's with a lot of big developments coming to the city, right?
Paul:                
Yeah. You know, we sat down and we did a preliminary list and we have half a dozen major regional developments that are coming up. Starting with the airport, which is a multibillion dollar renovation. When people enter the airport, it's going to be something they see immediately, because a lot of what's there now is coming down, going to be replaced with something very different.
Paul:                
You got the cracker plant, which if you travel the Southern beltway from the turnpike from the West down towards the airport, you are going to cross the river and you're going to see the cracker plant. It explodes on you in terms of its stature on the landscape, and you see this $5 billion infrastructure, and we really don't know how that's going to change things. Personally, in the last segment we talked about my eight decades of perspective, so I can remember when, to give the listeners a sense of how things have changed around here, because I think far too often we think things haven't changed in Pittsburgh. In an earlier job I was working around the closing of what was the cracker plant at the time, the Nabisco Bakery, which is now Bakery Square, and is the center and hub of most of the tech investment in Pittsburgh.
Dan:                
Which is where I used to live.
Paul:                
And people were gnashing their teeth at the time, understandably so. People in the Nabisco plant lost their jobs, but it was hard for people to see what that could possibly become. And now Google's there and a lot of other companies, it's been an amazing transformation. So we really don't know with this other cracker plant, which is not really baking cookies.
Dan:                
For natural gas, correct?
Paul:                
It's cracking the natural gas stream to create the basic ingredients to create plastics and a wide variety of other chemicals. We really don't know what's going to happen. I do think it's kind of interesting though, kind of the dichotomy, if the region's experience with what happened in Bakery Square is a good predictor that could be a really, really major difference.
Dan:                
Right. Well, I mean the cracker plant as you mentioned, I mean that's a significantly different industry. And this is adjacent to manufacturing, these are going to be more blue collar jobs, which is something that's been missing in American society here for quite a while since the 2000s here, and especially in our region since the collapse of the steel industry in the 80s. A lot of these big plants that require maybe skilled workers, people that aren't going to be sitting around coding all day, but they are very worthwhile jobs. They're jobs that are hopefully going to pay well.
Dan:                
This is going to be a massive plant. If anybody has not been up there, the size of this thing is just gigantic. So you have to assume that some people in our region are going to benefit from this. So that's an exciting thing to see, whether you agree with the environmental consequences or not, but this is going to be something hopefully positive for the region. As is the airport, as you just mentioned. People don't quite realize what it will be like to have a first-class landside terminal out here, and the improvements won't just be on that terminal, it will also be throughout the rest of the airport.
Dan:                
And hopefully we bring in more direct routes, and that has a great economic boost on the region here. More companies will be interested if they can get out here quicker from where their headquarters are, or perhaps they'll set a headquarters here knowing that they can get to other parts of the country easier. And that's going to be another, it's an expensive project but I think a lot of it is being paid for by say the airlines, and other non-public sources, and it's going to be useful for whenever it comes around, and it's going to be a huge part of Pittsburgh's future.
Paul:                
An important aspect of the major projects that are going to start to come online in the next year or so is how many are actually within the city limits. And when we talked about six or so major projects, we've talked about two, four are actually within the city.
Dan:                
That's right, yeah. Some huge stuff coming up here. One that was in the news story just recently is the big redevelopment that is happening at the Civic Arena, the former Civic Arena site I should say. But First National Bank is going to build an office tower out there, about 24 stories, so it might peek over the top and we might get another little part of our skyline here in Pittsburgh. But that's an exciting thing to see, it's good to know that big Pittsburgh company is going to be staying here, and a building like that will help anchor what they hope to be another great development, another great place for entertainment, retail, even residential areas, here in the city. And so that's exciting to see that that's starting up.
Dan:                
Some other big developments that we should see over 2020, the Hazelwood site that has been talked about for a long time. You know, we figure by 2029 there has going to be something there. It will no longer be a rusted frame of what was once a steel mill. The Strip District, they are well on the way to building up what was the produce terminal, and that development is only going to go straight down to the river. It's beyond just that, so hopefully within a couple of years, less than that, we're going to have a really exciting place in the Strip District to go. It's already a fun neighborhood, so I hope it retains some of that great personality that it has. I know Logan, you feel the same way.
Logan:             
Yeah, definitely. Specifically on the strip that's a great area to go. It has such a rich and varied history, and now culturally, retail and just kind of going there on the weekends. But yeah, as you said, there's a lot of great developments coming there. And you know, it's nice to see these apartments maybe bringing in a more polished clientele to some areas of Pittsburgh. And as we talked about, we kind of have to strike a balance with that. But definitely it'll be interesting to see, and I definitely want to see it keep that personality that you mentioned.
Dan:                
The other development that I wanted to bring up that is within the city limits here, and could be the most visually arresting of them all, would be in the Chateau neighborhood on the North Side just up from the casino a little bit, we've got a developer who wants to build a beach, a lagoon, and a Ferris Wheel on the North Shore. Which would be kind of nuts, but it would actually be pretty cool if it gets done, I'm still a little dubious about it, but-
Paul:                
In PR, we call it unique, not nuts.
Dan:                
I like nuts. I think we can be the agency of nutso. We can kind of go crazy.
Paul:                
No, you know, there's reasons to do what they're doing. And certainly, one of the things we've talked about in today's episode is the perceptions of Pittsburgh over time. And you certainly wouldn't think about there being a beach in Pittsburgh. And the jury's still out. Let's see how it gets built and take a look at the lagoon. Certainly though, a Ferris wheel. Ferris wheels have a lot of history in Pittsburgh.
Dan:                
That's right. The first Ferris wheel, I don't know if it was ... but George Ferris was from Pittsburgh.
Paul:                
Yes, he was from Pittsburgh. So technically invented here, so there is some unity of theme and thought there. With the Civic Arena site and also with the Chateau development, what we're really seeing, akin to what I mentioned earlier about the Nabisco cracker plant, is the fulfillment of a long term promise. The Civic Arena site belongs in terms of development to the Penguins, and it's been a long time coming to get that site redeveloped. A big part of the goal for the community is to reconnect the Hill District back to Downtown. So there's a lot of hope for that and I think that's really a very exciting development to see take shape as we begin the 2020s.
Dan:                
One more development that has been in the news lately that would be ... this would take us almost into like a Star Trek type of future here, except that we-
Paul:                
It will take us into another time zone, Dan.
Dan:                
Yeah, you're right. It would take us into the Midwest.
Paul:               
Chicago.
Dan:                
The proposed Hyperloop transportation system. This is basically high-speed rail on steroids. It would be a somewhat like a train, but it goes inside of a tube type of situation. That's a low pressure tube. Take you up to 500 miles an hour, which as you put, would get you to Youngstown very quickly. But this would actually take-
Paul:                
Yes, you would sneeze and you'd be in Youngstown.
Dan:                
Right, yeah. This would take you between Chicago to Cleveland to Pittsburgh in less than an hour, actually. Pittsburgh to Chicago in less than an hour is impressive.
Paul:                
And it would only cost $47 billion.
Dan:                
Right, yeah. Which is a little bit of scratch, but with inflation I think everybody will be making a little more by 2029. But obviously this is something that's a long way away. You know, it would have to get government approval. Basically what we have had lately are just feasibility studies. But at a certain point, infrastructure will have to change in this country here. And high-speed rail is something that's been thought about in other parts of the country, obviously California has had its ups and downs with it for sure. But it's something, if anybody's had a chance to go overseas, I've been on some high speed rail in Italy, I'll be taking a trip to Japan later this year with my wife and we're going to be, we've already get some tickets to take some of the high-speed rail between some of our destinations. And it's a really, it is an efficient way to get around, and it's a lower cost alternative to air travel.
Paul:                
It can be.
Dan:                
It can be.
Paul:                
And there's also environmental benefits potentially.
Dan:                
Sure.
Paul:                
I was talking to somebody the other day, a friend, and my wife and I, we have a daughter who lives in Chicago and my wife was lamenting that if there are ever grandchildren, that it would be difficult to be there for the grandchildren.
Dan:                
Right, you've got a daughter in Chicago, right?
Paul:                
Somebody was talking about the Hyperloop and said, "What's the big problem? Grandma can jump on the train in the morning and be there in time to take care of the kids."
Dan:                
Right. Well I think-
Paul:                
That sounds weird, but that might be possible.
Dan:                
That would be pretty cool, yeah. Just take a day trip over to Chicago, come home, be snug in your bed later in the day. I think the earliest they would begin building sections of this would be in the late 2020s here. And I believe even Chicago to Cleveland would be the first stage of putting this together. It's fun to think of, this Jetsons-like future. Obviously not flying cars, but the idea of a Hyperloop is definitely something you'd think of in mostly science fiction, but eventually these things will come to pass. And it would be really neat if Pittsburgh were at the forefront of something like this, and it would only again, provide a big boost to the city.
Paul:                
Yeah. And just again, as I said earlier in the episode, as the person with eight decades in perspective here, let's just remember when the Nabisco cracker plant closed down, it was extremely difficult for us to see what the future was going to be like. And now Bakery Square is a technology industry magnet. So these things that we've talked about in today's episode, we can't predict the future, but if we look at the past and how things have changed, we can be pretty darn hopeful.
Dan:                
Right. So I guess the only prediction is we don't know what's going to happen by the time 2029 rolls around, but we're excited for that.
Logan:             
Centuries before cell phones and social media, human connections were made around fires as we shared the stories that shaped our world. Today, stories are still the most powerful way to move hearts and minds and inspire action. At WordWrite, Pittsburgh's largest independent public relations agency, we understand that before you had a brand, before you sold any product or service, you had a story. WordWrite helps clients to uncover their own Capital S story, the reason someone would want to buy, work, invest or partner with you, through our patented Storycrafting process. Visit wordwritepr.com to uncover your Capital S story.
Logan:             
Hey everybody, we're here with Steve Soboslai, lead singer and guitarist of Punchline out of Belle Vernon, a band that's done some crazy things over the past 20 years that they've been playing. Steve, thanks for being here.
Steve:              
Thanks for having me, Logan.
Logan:             
Yeah, happy to have you. We also have my colleague Robin, who's been a longtime fan of Punchline, here to give her insights as a fan.
Robin:             
Yeah, I'm pretty excited. My favorite band Punchline, I met them back in 2006 when they had opened up for Taking Back Sunday. So I've been a huge supporter of the band for since 2006.
Steve:              
Thank you for your support, your constant support.
Robin:             
Yeah.
Logan:             
So as I said, you guys have been around for quite some time. Could you just give us a brief background of how you guys initially formed and what the story's been since then?
Steve:              
Right. So, we have been around a long time, 20 plus years and that's because this is virtually the first band that we started. We had two other bands that we started and kind of fizzled out, but Punchline was the first band that we ever played more than one show with. And I feel like a lot of bands as they got more serious would have changed their name, but we just kind of always stuck with our name. And we've put out, I think our next full length album will be our 10th record, aside from there's a bunch of EPs and singles and all that kind of stuff too.
Steve:              
But our story is that we formed in high school, and then we got more serious when we went to college and developed a fan base in Pittsburgh, which we've been super thankful to have. Thank you, Pittsburgh, if you're listening. And after the following in Pittsburgh developed, then we moved on to playing outside of Pittsburgh, which kind of grew into getting a booking agent, getting a record deal. Started touring the U.S., we made a couple of trips to Japan, we've been to Japan four times, and we've toured the UK twice.
Steve:              
So I lived in Nashville for about five years, and when I moved back, that was about two and a half years ago, and at that point we said, "You know what? Let's kind of revamp this Punchline thing and do it like we haven't done it in years," and we put out a record called Lion that was self-produced. And in the last two years we've done more touring than we have in the last probably eight years.
Logan:             
Wow, that's great.
Steve:              
Went out and we toured with the Gin Blossoms, we toured with Less Than Jake, we toured with The Spill Canvas. And it was really great to get back out there and see what can we do in the year 2019 and in the year 2020, to really make an impact like we never have before.
Logan:             
Yeah, that's great. And so how was that experience coming back after that break and touring LION? Did you see that it was a lot of your fans that kind of grew up with your music coming back? Or did you see an influx of younger fans in the crowd too?
Steve:              
So what I'll say about that is this: the band Gin Blossoms that we toured with, I'm sure that people listening have heard of them. They have five mega hit songs including Hey, Jealousy, Follow You Down and Found Out About You, which is a song that we covered on an EP that we put out last year called Songs From '94, which covers of all songs from 1994. I remember maybe a decade ago we became friends with the Gin Blossoms through an old manager that we had. I remember talking with the singer and he was telling us how they took a really long break from playing music, maybe they took 10 years off. They had these two huge albums, and then they took all this time off.
Steve:              
And when they stepped back into the touring circuit and into making new music, you would think, well yeah I mean they can just step back in and they'll be at the top of the charts and people will be coming to their shows because everyone loves those hit songs, and it's not really the case. They really had to like rebuild things for themselves. And I saw it over the course of the last 10 years. When they came back to it, they were playing like Rib fests and playing these more like you know, county fairs. And then a couple years later they were doing more prominent festivals. And I think it was last summer, we played a show with them. I looked at Robin, she confirmed it was last summer.
Robin:             
It was last summer, yep.
Steve:              
And last summer they had 3000 people there at Stage AE. And I talked with the singer after and he said, "Steve, we could have not have done this 10 years ago," and it's been just stepping back into the ring and kind of building back up. And over the last couple of years, that's been really inspiring for me. We're a much smaller band, but kind of in the same way stepping back into it. You can pick up kind of where you feel like you might have left off, and start building back up. So we've been doing just that and I think it's been a very fruitful for us. And that is the answer to that question.
Logan:             
I'm sure it's cool kind of stepping back into that circuit. Like you said, working your way up, getting through those bigger venues, more prominent venues. And I'm sure, Robin, I'm sure you're dying to hear some new music from Punchline.
Robin:             
Oh yeah. I listen to them almost every day, so yeah. What can we expect in the new year? I saw that you had traveled this summer, I think you went to a campsite or a cabin, right? To record new music?
Steve:              
Yeah. We rented an Airbnb in Amish country in central PA, Woodward, PA, and we had a long weekend of just being creative and coming up with new songs. Kind of just jamming, as they say, which it's hard to find the time to do that. Just getting together and being creative is such a beautiful thing, as opposed to like, "Okay, we're together now. We have to do this thing. We have to go play this show," but just having time to be like, "Let's see what we can come up with." So that was a great trip, and since then we went to Chicago and we recorded three new songs that we're going to be releasing in the new year.
Robin:             
Are we going to hear them in the January show?
Steve:              
We talked about playing one of them. One of the songs, the first one that's done, it's kind of a sequel to Friend From The Future from our last album, and I'm really excited about that. I'm not going to call it a full on sequel because I don't think song sequels necessarily exist, and that makes it sound like ... it's just, it's inspired by that song, kind of picked up where that one left off and kept going with it. It's pretty neat. I don't know if we're going to play it in the new year, but I think that it's going to come out shortly into 2020.
Robin:             
I have so many memories from, I've been to almost, I can't say all of them, but I've been to almost every single Punchline show since I've met you guys in 2006. And one of my favorite memories is when you played one of your anniversary shows and you played 37 songs and it was incredible. So I'm really excited for this anniversary CD, especially I mentioned before that one of my favorite lyrics is on this record. So I'm excited about the show.
Steve:              
Nice. Well we've been putting in a lot of work to refamiliarize ourselves with, she's talking about this album Delightfully Pleased that came out in 2010, so 2020 is the 10 year anniversary of that. And on January 3rd we're going to do a show at the Rex where we play the whole album front to back plus a couple of other songs. So we've been kind of getting back into Delightfully Pleased mode, getting familiar with the songs and we've been practicing a lot and we're really excited. I feel like we're going to do the album justice, and not just go up there and play the songs. We're trying to be really thoughtful about how to do it. I think you'll like it.
Robin:             
I'll love it.
Logan:             
Okay, Steve. Well we can obviously tell that Robin is very excited about the January show as she should be. It should be a great time at the Rex Theater, again on January 3rd. And we know that you have a song you want to play us out with today. Can you tell us a little bit about that?
Steve:              
Yeah, so the song is called Darkest Dark, and I think it was last year we released a music video for it that was shot in Pittsburgh.
Robin:             
At Kennywood.
Steve:              
Yeah, it was shot at Kennywood and all over the city. It's our tribute to Pittsburgh. We had this director capture Pittsburgh in a really beautiful way, so I would urge you to also check out the music video, the song is called Darkest Dark.
Logan:             
That sounds great. Once again, Steve, thanks so much for being here. We really appreciate you coming in.
Robin:             
Thank you, Steve.