Episodes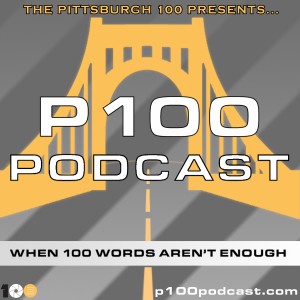 Tuesday Feb 11, 2020
Tuesday Feb 11, 2020
This episode, we're talking about people who are coming to Pittsburgh, whether it's for work or just visiting.
We'll break down a report that suggests the city might be a better fit for tech workers than the mecca of the digital economy, Silicon Valley (gotta love our standard of living). We're also talking about a recent article that probes the need for a new hotel at the convention center. (Hint: The answer isn't very simple.)

In between, we welcome the Breaking Brews Podcast's host Jason Cercone for a chat about the business of beer and Pittsburgh's place in the industry.
This episode is sponsored by WordWrite:
Centuries before cellphones and social media, human connections were made around fires, as we shared the stories that shaped our world. Today, stories are still the most powerful way to move hearts, minds and inspire action.
At WordWrite, Pittsburgh's largest independent public relations agency, we understand that before you had a brand before you sold any product or service, you had a story.
WordWrite helps clients to uncover their own Capital S Story – the reason someone would want to buy, work, invest or partner with you through our patented StoryCrafting process. Visit wordwritepr.com to uncover your Capital S story.
Logan:
You are listening to the P100 podcast, the bi-weekly companion piece to the Pittsburgh 100, bringing you Pittsburgh news, culture, and more. Because sometimes 100 words just isn't enough for a great story. 
Logan:
Hello, and welcome to a brand new episode of the P100 podcast. You're here with myself, Logan Armstrong, and co-hosts Dan Stefano and Paul Furiga. Guys, how are you doing?
Paul:
Great, Logan.
Dan:
Emphasis on the co-host there. You're the host with the mostest there.
Logan:
I try to be. I do what I can, but-
Paul:
Yes he does and he does it well.
Logan:
I get my mostest from the people I'm surrounded with. On today's episode, we're going to be examining tech jobs in Pittsburgh, and there have been a few recent articles for some vying to leave and some vying to stay that you may have seen. So we're going to be talking about that and seeing how Pittsburgh ranks compared with cities and metros around the country in tech jobs.
Logan:
Then we're going to bring in our good friend Jason Cercone from the Breaking Brews podcast. He takes a drink from breaking, excuse me. He takes a break from drinking beer and talks about the business side of it.
Paul:
Wait a minute, that wasn't in this segment. There was no beer drinking?
Logan:
Unfortunately no.
Logan:
We asked him about it and he said that he'd be happy to rejoin us.
Dan:
Logan, let's remember we're talking to the CEO of our company within the office, so no. There's no-
Paul:
Well that's fine. Let's chat.
Dan:
We don't have a video of this, but if you could see the winking eye. No, there is no-
Logan:
No beer during this segment.
Dan:
Drinking during this segment.
Paul:
Of course not.
Logan:
Okay, and then finally we're going to wrap up with what's missing from downtown.
Paul:
Oh.
Logan:
Indeed, mysterious.
Paul:
Question.
Logan:
That's right. You'll have to stick around to see what we're talking about, but we're in for a great episode so we hope you stick around.
Dan:
I hope it's not my car or anything.
Paul:
Okay guys, time to do one of our favorite things on the podcast. Talk about Pittsburgh getting another great national ranking.
Dan:
Another list, right?
Paul:
We're on another list.
Dan:
Yeah.
Paul:
This one's a good one. Although, if you're in the Silicon Valley area, maybe not so good.
Dan:
Right.
Paul:
A couple of weeks ago, Wallet Hub, which is an online service provider that looks at financial things, very popular with millennials.
Dan:
They make many lists.
Paul:
They make many lists of many different things. Top places to live in the country for tech workers. Pittsburgh, number five. Silicon Valley, not so high, which caused the San Jose Mercury News, which San Jose's a community that's smack in the middle of Silicon Valley, to write sort of a cheeky little article. Pittsburgh is better for tech workers than Silicon Valley? Question mark. Well, yes, if you want to live affordably, apparently it actually is.
Dan:
That's completely accurate. Yeah. The Bay Area, it's got to be one of the highest costs of living-
Paul:
It is actually.
Dan:
In the country.
Paul:
It has the highest cost of living in the country. And Logan, you were looking inside some of the rankings, and Pittsburgh ranked in the top 15 in a number of categories, right?
Logan:
Yes. So the three categories were professional opportunities, STEM friendliness, and quality of life. And Pittsburgh ranked 13th, 14th, and 11th in those, respectively. And some of the reasons that places like San Francisco and the Bay Area didn't rank so highly is that they would rank very high in one or two of these categories. So for example, San Francisco ranked third in both professional opportunities and STEM friendliness but then ranked 63rd in quality of life for reasons we were alluding to earlier. So it's good to see that Pittsburgh ranked in these lists as being as an all around. Maybe it's not top five or the best in STEM friendliness or professional opportunities, but it's well-rounded and our quality of life here is, according to this list, far better than some of our counterparts.
Paul:
And certainly as the community here has continued to transform, and I'm thinking now of Uber, and Apptive, and Apple's got a good presence in the city. Facebook's virtual reality company, Oculus, is wholly sited here in the Pittsburgh region. We're trying to attract more tech workers and we've got these great university programs, CMU and Pitt at the head of the pack, but others as well, where we're building this tech community. And I guess it does still surprise people in the more traditional communities, but it's legit. There's something going on here.
Dan:
Right. For better or worse, Pittsburgh will always kind of bring that blue collar atmosphere, that blue collar mentality, a bit rough around the edges. I talk about it all the time, but my wife's family, who, they grew up in California, they all lived in California for a while. They came to Pittsburgh here and they said, "Wow, I had no idea it was this green." So there's always going to be a bit of a stigma that the city carries around, but I think these lists show that to that the news is catching on here. And Pittsburgh is basically known now for the meds and eds and now tech. The reputation is definitely growing here and starting to overcome that stigma.
Paul:
That perception.
Dan:
Yeah. But there's ... Well, not to be Debbie Downer or play devil's advocate here, there are still the legacies of that history here that carries on, especially in our environment.
Paul:
Yeah. We still have work to do, that's for sure. I can remember when I first moved back to this region from the Washington DC area. I had a job in the south side and what is now South Side Works was still a working steel mill, and as I would drive across the Birmingham Bridge every morning, the smell of burning coke was my appetizer before breakfast.
Logan:
Morning coffee.
Dan:
That'll wake you.
Paul:
And there's been plenty of coverage, and legitimately so, that we still have environmental problems in the region. And certainly one of the reasons why the Bay Area, Silicon Valley, is disadvantaged on a list like this, is because there's such a huge economic disparity there. It's the most expensive metropolitan area in the country. Ours is not. Part of the reason Pittsburgh's so affordable, the collapse of the steel industry and heavy industry. So there's all this housing stock and we didn't have the kind of inflation maybe that a place on the coast like San Francisco has had, but we have economic disparity too, and that's something that we have to work on too.
Dan:
Right. I think that's being recognized now. We talked about a couple episodes ago here, that the city is starting to take a hard look at itself, especially in terms of the racial inequalities that exist here.
Paul:
Yes.
Dan:
Again, the three of us aren't the best people to speak to this. We don't live the same experiences that a lot of people do in this city, but we can play a role by listening and being active and playing a part in recognizing that. And trying to create opportunities, being part of the solutions here. It's going to take a long time for Pittsburgh to completely shrug off some of the legacies that came from the 20th century here, some of the stuff that might be dragging down the city, but we can do it.
Paul:
We absolutely can. And if we can, we'll put in the show notes, there have been a couple of interesting public source articles that have dug into some of these issues, and I was reading-
Dan:
Quite a battle in tech, here.
Paul:
It was a battle in tech, and there's one written by a fellow named Noah Theriault, I believe that's how his name is pronounced, and he's at CMU. And the conclusion of this article, which you found, Dan, I thought was really interesting. He said "Here many of us who come here for opportunities in the city's universities, hospitals, and tech firms, do so in a state of willful ignorance. We take advantage of the low cost of living, we relish the walkability of the neighborhoods. We gentrify. Many of us smugly believe that we are the city's rebirth, the salvation from rust and blight. Too few of us learn about the historical and ongoing realities that make it most livable." And I think that's something that's really at the heart of what we need to remember. It's great to be on lists like this, but really there is no Nirvana -
Dan:
Right?
Paul:
That exists among places to live in this country. We have work to do too.
Dan:
It's hard to put a number on somebody's personal experiences here. I think that's the crux of what you were talking about there.
Paul:
Exactly. Exactly.
Dan:
All right. We're here with Jason Cercone. He's the chief brand officer at Breaking Brews, also the founder there and they're a content network and digital resource platform for people in the beer industry. Not only that, he hosts the Breaking Brews podcast, which takes a pretty unique look at the beer industry. They focus a lot on the business side of things. So Jason, thanks for being here.
Jason:
Thanks for having me guys.
Dan:
Awesome. Okay. As we mentioned, what you like to do with Breaking Brews your podcast and kind of spins off of your business. You look at a pretty different side of things in the spirits industry, in the alcohol industry there, that people don't think of all the time and that's actually selling the stuff and getting it out there, right? Yeah.
Jason:
Yeah. What I discovered was there are a lot of podcasts dedicated to drinking beer and reviewing and having fun and those podcasts are all great, but I wanted to bring something different to the podcast world. And I started looking at the fact that we don't have a ton of podcasts that are dedicated to the business side. Which talks about sales and marketing and distribution, all those different facets that are very important and very critical to the beer world. That was where it really started to ... or where I really started to make it take off. And I talked to a lot of industry professionals that felt the same way. They said when they're cleaning kegs and doing some of the horrible work that goes on in the brew houses that they want to put on a good podcast and listen to something that they can learn from, and that was the resource I wanted to put out there for them.
Dan:
Right, well the industry's really exploded as far as the craft production or the craft beer segment goes. I think ... I'm just looking at some facts here from the Brewer's Association, retail sale dollars of craft beer in 2018, I think the most recent year of stats was $27.6 billion. You said you've seen that since you started the Breaking Brews podcast yourself, you started about four years ago, or is that just your business?
Jason:
Breaking Brews itself started back in 2014. This is actually my third iteration of a podcast. I actually did one, like I was saying before, where we just sat around and drank beer, and that got old after a while.
Dan:
Why aren't we doing that right now?
Jason:
That's a very good question. I know. I was quizzed on that when I walked in the door, why I didn't bring beer and I'm starting to regret that.
Dan:
We'll just have our first kegger podcast, here.
Logan:
Yeah, well that'd make for some good conversation, that's for sure.
Dan:
That's a great idea.
Jason:
I'm always happy to come back for a second round if you guys want me to bring some-
Dan:
Right.
Jason:
Good drinks.
Dan:
Great idea. But yeah, as we were talking about the industry is just enormous right now. We're seeing that too in Pittsburgh, right?
Jason:
Absolutely. Yeah. I mean when I started things in 2014, there was probably maybe a dozen local craft breweries and now you look at the landscape, there's over 50 throughout the region. It's incredible. So many of them are doing great products and getting it out to bars around the area and also creating an awesome taproom experience too.
Dan:
Why do you think that is?
Jason:
Pittsburgh loves its beer, man.
Dan:
Yeah.
Jason:
But overall I think that ... I mean we haven't ... we hear the talk about the bubble a lot and has craft beer reached its saturation point. And I've always been a firm believer that we haven't even come close because we're not even close to the number that we had, or number of breweries we had before prohibition.
Dan:
Yeah.
Jason:
I mean we're creeping up, we're getting close, but the population of all these different cities and states across the country is so much higher. And when I go out to events and I do samplings and I talk to beer drinkers, a lot of folks still really aren't aware of what's going on in the craft beer industry. So there's still a lot of education that we can provide and that was one of the main drivers of Breaking Brews was putting some education out there so people can better understand what's going on in the industry and what's going on with these products.
Logan:
That's an interesting benchmark that you mentioned there that the number of brewers before the prohibition. Is that a common milestone in the craft beer business? And are there things that were happening back then that are happening now? The same way?
Jason:
I think it's, it's obviously changed a lot in regards to how beer is made. Brewers have pushed the envelope to the furthest degree possible and then a little bit more. You see a lot of crazy ingredients going into beers that probably pre-prohibition they weren't putting donuts into stouts and Twinkies-
Logan:
What were they doing?
Jason:
Breakfast cereal. I know it's like they weren't living their best life at all. However, a lot has changed. It's just the question of people's tastes have changed too and it's what do they want? And that's what these brewers are constantly trying to stay on top of, is what does the beer consumer want to drink today? And that's why I think you see such a variety out there in the market.
Dan:
Is it fair to say that it's easier to start a brewery round now or at least, somebody can be in their basement and actually trying to kickstart their own beer?
Jason:
That's probably the biggest misconception is that it's so easy to start a brewery because it's like any other business.
Dan:
Look, I've seen the Drew Carey show and he had a brewery in his basement. I know how this works .
Jason:
That's one of the big problems when you see some of these breweries that come out and their beer really isn't that great. They're standing around with their friends in a circle and all their friends are drinking their beer saying, "This is the best beer I've ever had. You need to start a brewery." And that's all well and good, but if they don't have a business sense that goes along with making a good product or even a subpar product, if they don't manage it properly, it's just not going to succeed. So it's just like anything else. I think that the barriers to entry are a little bit less because a lot of people have done it, but the smart thing to do would be go into it knowing that it's a business and you have to do all the things that you would normally do to run a business, or partner with somebody that can handle that end of your business for you.
Logan:
Partner with someone like Jason, Jason Cercone.
Jason:
I am for hire. I am here if anybody needs assistance. I'd be happy to help.
Dan:
Have you ever, you yourself, have you ever actually started ... Well maybe not started your own brewery, but have you ever brewed your own drafts?
Jason:
I've partnered and done some collaboration beers with a few different breweries across town. I did an event last year where I partnered with Yellow Bridge Brewing out in Delmont. I just went out and brewed with them for the day and I was able to say that I helped and I call that a collaboration. And I've done that with a couple of other breweries too. And that's fun. I mean that's the brewing side of it for me. I've always been more of a beer drinker and I like to obviously talk about it and promote it and market it. Brewing it just wasn't really something I wanted to do full time. It's a hard job. I think that's where a lot of people look at that like a glamorous thing and brewers will tell you, those are long days. It's very industrial and they work their asses off to put together a good product. End of the day, they are dog tired.
Dan:
Sure.
Jason:
So yeah, important. If you're going to be a brewer, know you'll be working hard.
Dan:
Right. We talk about hard work there. We're talking about having a good business sense. What do you see are some of the secrets to say these successful craft brewers and the people that maybe ... even some of these breweries that say are smaller, let's think about Southern Tier years ago, nobody knew who they were. Now they've got their own brewery on the North shore and what are some of the secrets to some of these businesses that have made it?
Jason:
I think it's understanding how to grow and being very deliberate about it and not trying to just shoot the moon right out of the gate. Obviously you have to establish a loyal fan base and make good product at the same time. But if you try to go too heavy, if you're a small local brewery and you try to make a statewide distribution, your number one priority, chances are you're not going to succeed because you don't have the liquid to supply the markets. So there's a lot of different aspects that you have to look at, but probably the most important is to use a popular phrase of our time, stay in your lane, and understand what it takes to build that brand from the ground up.
Jason:
Don't try to get too far ahead of yourself before you're ready. And then once the time comes where you've established that brand, then you can start looking at ... popular thing now other than distribution is looking at secondary spaces. We're starting to see some breweries in the Pittsburgh area open up secondary spots so they've proven that their brand is good enough to support it and we wish them the best in carrying that out.
Dan:
Who would you point to as some really good success stories in the Pittsburgh area then and what they've done successfully?
Jason:
Oh man, that list is long.
Dan:
Yep.
Jason:
Yeah. One of the breweries that I work with, the Spoonwood brewing in Bethel Park.
Dan:
I was there just this weekend.
Jason:
Awesome. What'd you think?
Dan:
I loved it. It was my second time there. I had a great time.
Jason:
Yeah, they're doing great beer. Great food. It's a great tap room atmosphere. You really can't ask for much more than that. They've been ... they're coming up on five years.
Dan:
Wow.
Jason:
And I've been working with them since pretty much the beginning and we've been building that brand and we don't do a ton of distribution, but a lot of the beer that we put out there ultimately was just to build that brand and give people an opportunity to taste it. To where they might say, "Wow, this is in Bethel Park. I'm going to go down there and see what else they have to offer." Another brewery I work with is Four Points Brewing out of Charleroi. They've ... just under two years old at this point, actually just about a year and a half now and they're killing it. They're doing some great beer and then you've got a lot of the names that people hear of all the time, like your Grist Houses and your Dancing Gnomes and Voodoos and Hitchhikers of the world. Again, we could sit here and do a whole podcast where I just rattle off the list because there's a lot of good beer happening.
Dan:
Well, you're in luck, our next segment, we're going to list breweries for the next 25 minutes. All right.
Jason:
Yeah. Close off with reading the phone book.
Dan:
Exactly.
Jason:
Riveting radio.
Logan:
Now you've learned a lot of these techniques and methods. You have over 20 years' experience in marketing and sales. Did that start off in beer, or and if not, how did you navigate into the beer industry from that?
Jason:
That was ... I mean that was broken compasses for days, man, that was ... No, it did not start in beer. I've been working in the beer industry – counting what I did with starting Breaking Brews – for going on six years now. I sold cell phones right out of college, landed at Enterprise-Rent-a-Car for several years after that. Ran Hair Club for Men here in Pittsburgh for about four years. And with Breaking Brews, when I started it, it was ultimately just to build something that I felt was a good resource that could teach people how to gravitate to these beers in a very approachable way. Because as I learned, a lot of people just weren't aware of what was happening around them. So I was able to parlay my skillset from all my years in the professional world into a business that now I can help the breweries and help the different businesses that I work with do sales and marketing and create a good customer experience. All those good things, all things that are very important to building a good brand.
Dan:
Bring it back a little bit locally here to ... Pittsburgh I feel like is ... we've got a pretty special relationship to beer here. And it's some pretty big names in terms of, you think of Iron City, Duquesne, there's obviously Rolling Rock used to be around. How do you feel like the city's adopted and adapted to this craft brewing? I don't know if you could call it a Renaissance because it hasn't been around until right now, but this upsurge right now that people are ... they are doing with craft brewing.
Jason:
Yeah I think with the breweries now, I mean obviously as we spoke about earlier, we've got over 50 across the region now. It says a lot for the fact that people are going to go to a good brewery regardless of where they're at. It's become very neighborhood centric where you look like an old neighborhood pub, that's in some respects, being replaced by the local neighborhood brewery. You're seeing them essentially on every corner, quote unquote. And I think that helps with the fact that these guys are able to grow their brands so well because then it expands beyond their neighborhood as well. But yeah, we have a very rich history here in Pittsburgh with beer going back years and years back to ... I mean, Iron City was the beer.
Jason:
And I think now you're starting to see more of a shift towards the craft brands and many of them have been here for ... You look at East End, they've been here for 15 plus years now and they really were setting some good trends for what could happen and how people could gravitate towards a craft brand. Same with Penn Brewery. I believe 1986, was when they hit the scene. So a lot of good things have come along that have really helped push it forward. And now Pittsburgh is becoming one of those hot beds and I shouldn't say becoming it already is. And probably our closest rival in the state, just like everything else, is Philadelphia. And I think both of us have a tremendous beer scene that we can be proud of.
Dan:
Yeah. I think if you ever see a Penguins, Flyers game, it looks like more than a few people have beers.
Jason:
Well now, you see breweries have gotten in with the rivalries, like Grist House, and I'm forgetting the brewery that they partnered with out of Cleveland, they did a Browns, Steelers rivalry beer.
Dan:
Oh did they really?
Jason:
Rivertowne and Sly Fox had partnered up a couple of years ago for the stadium series. And they did a ... Glove Dropper was the name of the beer. And they worked together on that and sold it in both markets and worked out really well.
Dan:
All right Jason, well thanks so much for being here with us, for everybody at home. If you're listening, make sure to visit. If you're interested at all about starting a brewery and perhaps finding ways to market it and get it out to the world, you can go to breakingbrews.com. Look for Jason Cercone and also look for Breaking Brews podcast. You can find that on all the major platforms including Apple podcast, Stitcher, Google play, Spotify, iHeart, all the big ones where you can find us. And Jason, thanks so much for being here.
Jason:
Thanks again guys. Appreciate it.
Logan:
Sure thing.
Dan:
Great.
Logan:
Centuries before cell phones and social media, human connections are made around fires, as we shared the stories that shaped our world. Today stories are still the most powerful way to move hearts and minds and inspire action. At WordWrite, Pittsburgh's largest independent public relations agency, we understand that before you had a brand, before you sold any product or service, you had a story. WordWrite helps clients to uncover their own Capital S Story. The reason someone would want to buy, work, invest, or partner with you through our patented story crafting process, visit WordWritePR.com to uncover your Capital S Story.
Paul:
It's now time to talk about the biggest building that is not in the downtown skyline. We are talking about what is known in the travel trade as a headquarters hotel. In other words, if Pittsburgh were to host a very large convention, a large hotel would be designated as the headquarters hotel. In many cities, this is a large hotel that's attached to the convention center.
Dan:
Right.
Paul:
And that typically has somewhere in the neighborhood of a thousand rooms.
Dan:
Right.
Paul:
Pittsburgh – yinz don't have one of those n'at.
Dan:
Oh, they do have a hotel connected to the convention center, right?
Paul:
Yes, yes. We do the Weston and actually Dan, I'm glad you mentioned that.
Dan:
Yeah.
Paul:
Because in the original plans for the convention center development, that hotel was supposed to be about twice as big as it is and if it were, it would be the size of a headquarters hotel.
Dan:
Sure. Well, I think that is, it's interesting that you're bringing this up and I think we rewind a little bit. The reason we're bringing this up is, on February 3rd, in the Post-Gazette, Craig Davis, who used to be the CEO of Visit Pittsburgh.
Paul:
Yes.
Dan:
Yeah. Visit Pittsburgh is the local-
Paul:
It's the Convention and Visitor's Bureau in part supported by
Paul:
Our tax funds and they promote the city to businesses like conventions.
Dan:
Right, yeah.
Paul:
But also to leisure travelers.
Dan:
Draw people into the city. Yeah, it's important. Yeah. This article, what it did with, again with Craig Davis here, he had a piece of parting advice for Pittsburgh is how Mark Belko, the writer introduced this and he did a really nice job with this piece. Craig wanted to build a convention center hotel.
Paul:
Right.
Dan:
And that's what we're talking about here. And there's a lot of back and forth about whether it should be done, whether ... what kind of impact it would bring on the city here. And he had some really good information about it, yourself, but a lot of people, they want to see more here. And that's what we're talking about today.
Paul:
Right. So in the tourism and convention industry in Pittsburgh, this is the third rail of politics. Nobody really wants to talk about it. And I look at this article in the Post-Gazette, Visit Pittsburgh, great organization. Craig Davis, very effective leader and he's been hired to run a similar organization in Dallas. Smart person. He's in Dallas now, so he can kind of say, what maybe he couldn't say before when he was in Pittsburgh. And for people in his business, his line of work, you need to have a convention center hotel. The thing is, to build that would cost about, Oh, kind of like the same amount of money to build PNC Park or Heinz Field.
Dan:
Right? Yeah. In this article here, they have an estimate of $350,000 to $400,000 a room to build.
Paul:
Or in other words-
Dan:
That's all.
Paul:
Yeah. $240 million.
Dan:
Right. That's for a 600-room hotel.
Paul:
Exactly.
Dan:
Yeah.
Paul:
It's a lot of money. And it was not easy to get PNC Park and Heinz Field built. There was actually a referendum on the ballot one year that failed. It was called the Regional Renaissance Initiative. I mean we put renaissance in the name of everything, don't we? And it was after that, that a deal was brokered. A lot of critics said behind closed doors and smoke-filled back rooms that wound up producing Heinz Field and PNC Park. There doesn't seem to be a lot of political appetite for spending that kind of money, again.
Dan:
Right.
Paul:
On something like a convention center hotel.
Dan:
Again here, Mark did a great job with this article here and he put it pretty succinctly here. He said, "In recent years, Davis' pitch has landed with all of the enthusiasm of a root canal."
Paul:
Yes.
Dan:
I don't know about you guys, I get too enthusiastic over root canals, but I suppose not many other people do, but the article does bring up a good point. That there's been a recent hotel building boom in the region, in the downtown area, particularly across the river. Some other smaller hotels that have cropped up here and there, the Marriotts and whatnot.
Paul:
Many. You could throw a rock from where we sit right now, we can hit the Monaco.
Dan:
Absolutely, yeah.
Paul:
Throw it across the way, hit the Embassy Suites. We've got the William Penn, which has been here for a long time. The Drury is in the old federal reserve building.
Dan:
Right and that's just a block away from the convention center. But the kind of full service hotel that, again, this is from the article here that Mr. Davis would see here, that would require huge public subsidies. And that's-
Paul:
Yes.
Dan:
I think the sticking point that it comes down to.
Paul:
That is the third rail part.
Dan:
Whether we want this here and I think it's one of those things where you balance. You say, "How much are these conventions going to be worth compared to the costs, the investments that you have to make in a city here." And it could take a while until the scales tip one way.
Paul:
Well, and what's very interesting about this is, there are statistics, there don't seem to be any statistics readily available to say, "Yes, Pittsburgh, you should do this." What we tend to fall back on, are a couple of really great seminal events. First was the Bassmaster Classic several years ago. And still of course people who don't know Pittsburgh want to depict it as a smoky mill town. And we had this freshwater national competition for bass fishing. And it went off really great. And that's led, as Mark Belko's article points out to Visit Pittsburgh getting into seeking sports events. And we've had, I can't believe this, I didn't even realize this number, 22 NCAA championship events have been held in Pittsburgh and we've got more coming.
Dan:
Yeah. Just recently they had the National Women's Volleyball championship out here.
Paul:
Yeah.
Dan:
And I think a big part of that comes down to, they now have a world-class arena to do it in.
Paul:
Yes.
Dan:
Where Civic Arena definitely showed its age after a while.
Paul:
Right.
Dan:
That plays a different part here. But certainly the downtown hotel building boom assists with that.
Paul:
Absolutely. Absolutely.
Dan:
Convention centers is ... that's a little different. And again, I think what, Craig Davis is trying to say here is, having it connected to the convention center, people love that. It's very convenient just to grab an elevator, have a little sky walk over to the convention center. It's not always a feasible immediately though, it's nice to think of these things, but it's hard to find room for it. And whether you're going to supplement what is already there or again, it takes money.
Paul:
Well, my point about Bassmaster, the other thing that happened of course was the G20 in 2009. Those two events put Pittsburgh, reputation-wise, on a world stage. In the article, Mark Belko talks about Milwaukee, which is a nice enough town and they have a baseball team that has a better record over the last decade of a postseason-
Dan:
They spend more than the Buccos, but that's a-
Paul:
They do.
Dan:
That's a whole other podcast.
Paul:
However, in terms of the hotel market, not quite the same size as Pittsburgh and they're getting the Democratic convention this year.
Dan:
Absolutely.
Paul:
Why does Pittsburgh not have that sort of convention? And if we did, aside from the monetary benefits of the convention itself, what would it do for the city in terms of raising the reputation even more and bringing more convention business to Pittsburgh? It's hard to say. It's also hard to argue that it was really cool to have Bassmaster or certainly the President and world leaders for the G20. That was awesome exposure for Pittsburgh. This is kind of a question of how much is the region willing to spend? And apparently it's going to have to spend something, in order to create that kind of environment.
Dan:
I think what's important when you look at these national conventions, particularly in the political arena, that is strategic by the parties too.
Paul:
Oh yes.
Dan:
Wisconsin's very important in this upcoming election to the Democrats. As is Pennsylvania.
Paul:
Right.
Dan:
But they were also in Philadelphia not that long ago, so do they want to spend so much more time in Pennsylvania and look, Wisconsin, the people ... whenever they do the Monday morning quarterbacking of that election, they did not spend all the time there. So it's ... they're showing ... it's a quite a statement that they are spending the time in Milwaukee for this upcoming convention. But it also shows that if Milwaukee can host something like this, then, so can Pittsburgh.
Paul:
Why not Pittsburgh, yeah.
Dan:
I think Pittsburgh actually held the very first Republican convention that was back in the 1860s or so. And we had the hotel rooms for that one, I guess. You know.
Paul:
We did.
Dan:
Yeah.
Paul:
Well, country was a little smaller then.
Dan:
Indeed. Yeah.
Paul:
Might be a difference, but I think this is a topic we're going to come back to again, so we wanted to put it out there for everybody. Again, props to Mark Belko and his article and the truth speaking, shall we say, of Craig Davis. We'll have to watch the skyline and see where this one goes.
Dan:
Well, most importantly, just as a final coda to this, and Mark's article did describe this a bit at the end, for the leaders that want to see this kind of change, that want to see a hotel down here, they have to show their work. It has to be ... You have to come to ... with studies from respected institutions, respected people, who are proving that, "Okay, hey, when Milwaukee hosted this type of thing, if they had a hotel here, this is the impact that they would have got."
Dan:
There are other areas here in Louisville and Columbus that are building hotels. What will those hotels do for their ability to draw conventions? Are they stealing them from Pittsburgh? You have to come up with that information. You have to present it to the leaders, not only in our government, but the community to approve ... like, "Hey, okay, some of tax dollars should go to this."
Paul:
Absolutely.
Dan:
And if you can do that, if you can convince enough people, then maybe it happens. But that stuff takes some time too.
Paul:
Well, and just a final thought on this since Craig Davis left Visit Pittsburgh, they are engaged in a search for a CEO. So I would expect that once a new CEO is named, one of the first things that we should be looking for, is some thinking around this topic.
Dan:
Absolutely.
Logan:
And we are well beyond 100 words today. Thank you for listening to the P100 podcast. This has been Dan Stefano, Logan Armstrong, and Paul Furiga. If you haven't yet, please subscribe at p100podcast.com, or wherever you listen to podcasts and follow us on Twitter at Pittsburgh100_ for all the latest news updates and more from the Pittsburgh 100.